The holiday season is just around the corner and I know you are finalizing your shopping list. There are lots of Black Friday and Cyber Monday smartwatch and fitness band deals out there. But which one is the right one for you? I'm here to help you find the answer to that question.
Smartwatch or Fitness Band: Which is the better choice this holiday season?
This is a question that I am often asked about. Which is better: a smartwatch or a fitness band? In order to come up with an answer, it is imperative to know the basic uses of these two popular devices.
A smartwatch is a wearable device that not only shows the time but also delivers some important functionalities of a smartphone. These include emails, calls, texts, multimedia management, and social media notifications.
With a smartwatch, you can view and send automated replies to text or email messages. You can also view your social media messages and calendar appointments.
Moreover, you can also track your physical activities and record your fitness progress.
I can think of the best definition for this wearable device: a smartwatch is a smartphone that you can wear on your wrist.
On the other hand, a fitness band or tracker is also a wearable device that can record your daily physical activity. It can provide accurate health or fitness-related information such as heart rate, calories burned, and distance walked, among others.
In short, a smartwatch is more of a multipurpose wearable device while a fitness tracker is solely for fitness-related use. There are also hybrid smartwatches and fitness bands available in the market today.
Still confused? Watch this YouTube video to better understand the difference between a smartwatch and a fitness band.
Now, which is the better choice? It's really up to you. If you want a wearable device that can track your exercises, or you'd rather not let go of your old, reliable watch, then go for a fitness band.
A smartwatch, on the other hand, is a more practical choice if you always want to be online without having to pull your smartphone out of your pocket.
How to Choose the Best Smartwatch and Fitness Band
So, how would you choose the right smartwatch or fitness tracker?
In shopping for a smartwatch or fitness tracker, the first thing you to consider is its compatibility with your smartphone.
Can you imagine how frustrating it would be to realize that your smartwatch or fitness band is not compatible with your phone?
Most smartwatches and fitness trackers are compatible with an iOS or an Android device. Some are compatible with both operating systems. Before buying one, check the compatibility of the smartwatch or fitness band with your smart device.
The display of the wearable is equally important. There are several display variants to choose from: OLED, AMOLED, and LCD.
OLED and AMOLED displays provide bright and vibrant images. Colors like black are highly visible. The catch is that AMOLED and OLED displays can shorten battery life.
Smartwatches with LCD screens won't wow you with their images. But these tend to show text and images better in well-lit areas. Moreover, smartwatches and trackers with LCD screens tend to have longer battery life.
Speaking of battery life, you'd certainly want to get a device that can last days without charging. Keep in mind, though, that battery life can be affected by factors like the frequency of using the smartwatch or tracker, and the technology being used in the wearable. Still, a good smartwatch is one that can last at least 3 days without being recharged.
The features of the wearable device must also be taken into consideration. The smartwatch or fitness band should have features like built-in pedometer that measures steps and accelerometer that measures the intensity of your workouts.
Voice control is another must-have feature. With it, you can record memos, give voice commands, and send or receive text messages hands-free.
GPS is also important especially if you're a fitness buff who wants to keep track of your activities. With a smartwatch or fitness band equipped with GPS, you will know the details of your workouts such as the type of terrain you moved the fastest, and where you had problems with.
Not all smartwatches and trackers are water resistant. Only certain models can be worn while you take a dip in the pool. I would suggest that you check the specs if water resistance is a critical feature for you.
Finally, pricing will affect your buying decision. The price will largely depend on the brand of wearable you're getting as well as its features.
Because it offers more functionalities, a smartwatch is reasonably more expensive than a fitness band. To give you an idea, most high-end smartwatches are priced twice as much as a premium fitness tracker.
Best Black Friday and Cyber Monday Smartwatch and Fitness Band Deals
FitBit Versa 2: Best Value for Money Smartwatch and Fitness Tracker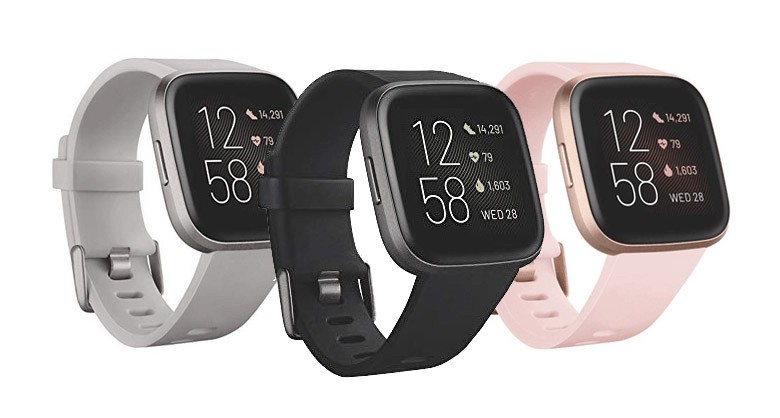 The FitBit Versa 2 is a smartwatch and a fitness tracker rolled into one. In my book, this is the best value for money wearable device today.
The FitBit Versa 2 is almost half the price of an Apple Watch. While cheaper, it can deliver the goods just like Apple's heralded smartwatch. It is compatible with iOS, Android, and even Windows-powered devices.
You will love that it is compact and lightweight, measuring 1.6 x 1.6 x .5 inches and weighing .16oz. Its OLED screen measures 1.34 inches and displays bright and vibrant text and images.
It is also water-resistant with an IP rating of 50 meters, meaning you can wear this while swimming or in the shower. Moreover, it has an always on function—no need to press any button to see the time!
The Versa's OS 4.1 supports various functions like Amazon Alexa Built-in which can help you in controlling your smart home devices. It also provides multimedia management, meaning you can change songs on your Spotify app with it.
As a smartwatch cum fitness band, the Versa 2 can track your steps. It can also determine your heart rate, hourly activity, and calories burned, among others. It can also track your sleep and even give you healthy reminders like drinking more water. Battery life is quite good at six days.
Pros:
·         Affordable price
·         Long battery life
·         Vibrant screen display
Con:
·         No built-in GPS
---
FitBit Charge 3: Best All-Around Tracker
If you're just after a fitness tracker, the FitBit Charge 3 should be on top of your shopping list.
Like its cousin, the Versa 2, the Charge 3 is lightweight. It measures 1.6 x 4 x 8.9 inches. The 1.57-inch OLED display has a backlit grayscale touchscreen.
And similar to its predecessor, the Charge 3 is water resistant up to 50 meters. If you're a swimmer and would like to track your activities, you will benefit from its new swim mode. It tracks laps and distances in the water.
That's not the only tracking function offered by the Charge 3. You can also choose from more than 15 various types of exercises. Moreover, it would remind you to walk or move if you have not reached 250 steps in an hour.
But like the Versa 2, the Charge 3 does not have a built-in GPS. This means you'll have to pair it with your smartphone if you want to track your runs.
One thing I love about this fitness band is that it can also work like a smartwatch. With it, you can see and reply to emails, texts, and app notifications. The Quick Replies work for Android users.
Another thing to rave about the Fitbit Charge 3 is its long battery life. It can last for up to 7 days. You can receive all notifications and track your activities and sleep without worrying about its 71mAh battery running out of juice.
Pros:
·         Long battery life
·         Quick Replies feature
·         Water resistant
Con:
·         No built-in GPS
---
Garmin Vivoactive 3: A Great Fitness-Focused Smartwatch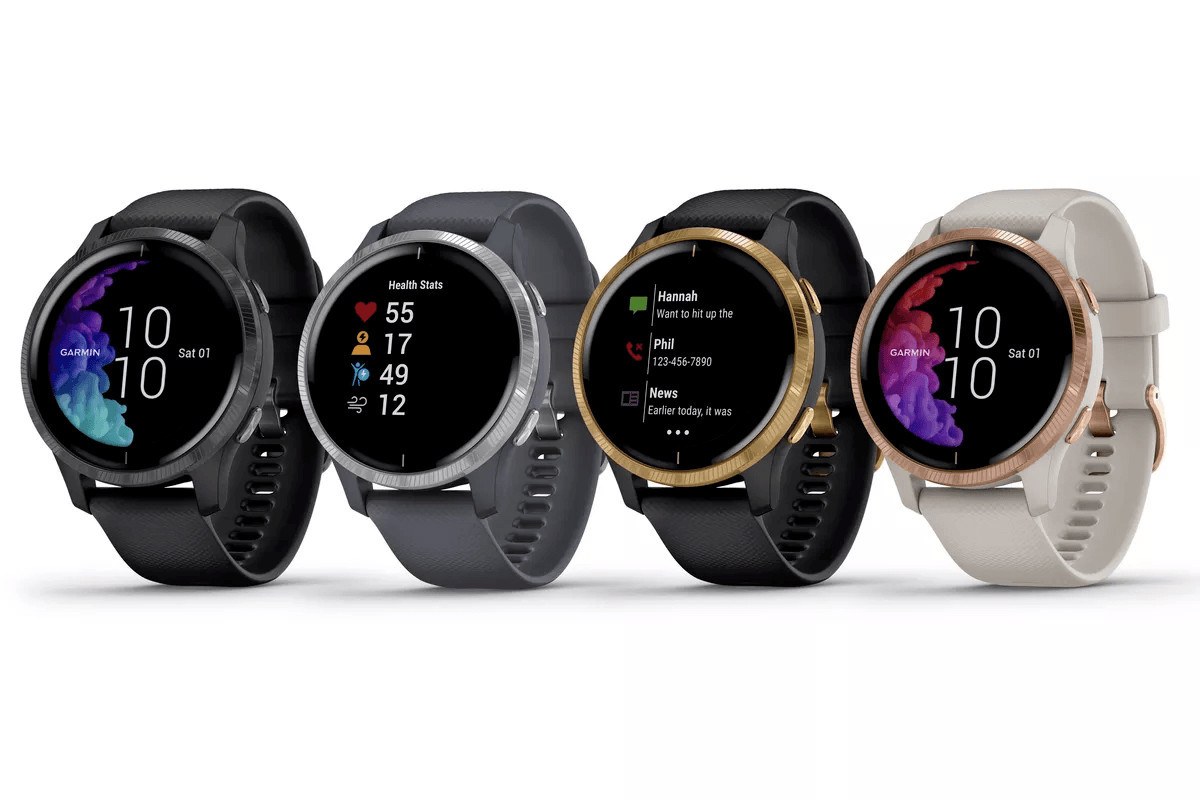 As you may have noticed, the two FitBit wearables don't have built-in GPS. If that is a concern for you, then consider getting the Garmin Vivoactive 3. This is a smartwatch with an integrated GPS, hence, you can be assured that it can deliver more accurate information regarding your runs and other activities.
That's not the only thing that makes the Vivoactive 3 a cut above the rest—it also has a built-in heart rate sensor. Again, this feature means you can get more accurate information during workouts.
The screen of the Vivoactive 3 is not as big as the other wearables, measuring only 1.2 inches. Still, you'll find it bright and easy to see even when under the sun. This is important when you are running; you'll easily view stats like your heart rate, pace, and distance covered.
Here's another fun feature of the Vivoactive: you can see a map of your run after syncing your activity to Garmin's Connect app. You can also pay for goods through the Garmin Pay function, a mobile payment system. Simply hold the Vivoactive near a payment terminal where mobile payments are accepted, and you're good to go.
But how about its battery life? The Vivoactive 3 has a decent battery life. It can last for about three days after continued use of the GPS and heart rate functions.
Aside from the battery life, another chink in the armor of the Vivoactive 3 is its lack of music integration. In short, you can't use it to skip songs on Spotify.
Pros:
·         With built-in GPS
·         With built-in heart rate monitor
·         Screen is bright even during the day
Cons:
·         No music app integration
---
Samsung Gear Sport: Sleek and Stylish Smartwatch
For some people, the design of a smartwatch is a deal breaker. If you're one of them, then you would likely find the Samsung Gear Sport the best in this list.
While the Samsung Gear Sport has been in the market for several years now, it remains one of the sexiest smartwatches in my opinion.
It has the classic look that would remind you of your old wristwatch. Its 1.2-inch AMOLED display can flash bright and brilliant images.
One of the best features of this smartwatch is that it supports offline Spotify playback. This means you can skip songs on Spotify using this smartwatch even if you are not connected to the Internet.
This smartwatch is water-resistant up to a depth of 50 meters. You can wear this when you swim. Plus, it has built-in GPS and heart rate monitoring. You can easily track your workouts with this smartwatch.
You can also expect the usual functionalities of a smartwatch with the Samsung Gear Sport. You can view and respond to your calls, text messages, and social media notifications.
The battery life isn't the best, though. It can last up to 4 days on a single charge. When it runs out of power, you can charge it through its wireless charging dock.
Pros:
·         Built-in GPS
·         Offline Spotify playback
·         Brilliant display
Cons:
·         Screen is small
·         Short battery life 
---
Ticwatch E: Solid and Affordable Smartwatch From Mobvoi
The Ticwatch E is a features-packed smartwatch coming from a relatively unknown brand. It's a solid and budget-friendly choice despite having its share of shortcomings.
One of the things that impressed me is its 1.4-inch OLED display. The resolution is sharp and vibrant at 400 x 400, which is quite a feat for a low-end model.
Compatible with both iOS and Android devices, it has the features you would find in high-end devices. It has a built-in GPS and heart rate monitor. The GPS tracker stands out because of the speed and accuracy in pinpointing location. Expect this affordable fitness-focused smartwatch to help you keep track of your fitness activities.
It is waterproof up to a depth of 1 meter for 30 minutes as evidenced by its IP67 rating. But this is not the smartwatch you would want for swimming. It lacks a swim tracking function, too.
Battery life isn't the best feature of this smartwatch. The manufacturer claims it can last for 2 days on a single charge. However, leaving the display always-on display would lead to it losing juice in a day.
In short, the Ticwatch E is a pocket-friendly smartwatch that suits fitness-conscious individuals. It may not be the best smartwatch out there but it is a solid choice if you have a limited budget.
Pros:
-Affordable
– Comes With GPS and heart rate monitor 
– Bright display 
Cons:
– Poor battery life 
– Not intended for swimming 
---
Wrapping Up Holiday Season Deals
These five smartwatches and fitness trackers are all highly-recommended but if I were to choose just one, I would go with the Garmin Vivoactive 3.
It has certain features you would want from a fitness-focused smartwatch such as built-in GPS and heart rate monitor.
It does not have the biggest screen but it makes up for it with its bright and brilliant display. The battery life is pretty decent, too.
The lack of a music app integration is perhaps the only notable chink in the armor of this smartwatch. Despite that, I believe you'll get your money's worth with the Garmin Vivoactive 3.