It's a fact that most consumer electronics out of China are cheaper than consumer electronics manufactured elsewhere in the world, which is good news if you're in the market for a new smartwatch. Aside from the high quality, Chinese smartwatches are also 50 to 80 percent cheaper than smartwatches made by Western brands!
It's important to point out too that Chinese smartwatches are branded – it's just you've probably never heard of them. So-called micro-brands tend to pop up, put their name on a smartwatch, and then disappear to rename themselves. It's just how the market works over there, and it works well.
The Best Chinese Smartwatches You Can Buy
In this article, we'll reveal the best Chinese smartwatches on the market right now. We've done our best to source devices that are well-established and widely recommended, to ensure our top picks remain relevant for as long as possible. Whatever the case, the best Chinese-made smartwatch has lots to offer.
Ticwatch S2
Thanks to its coverage in Western media, the Ticwatch S2 is probably the best-known Chinese smartwatch on the market. And for good reason – it's a compelling package as a smartwatch that is not only durable but comes packed with features.
For its construction, the S2 has a minimal and elegant design that is actually extremely durable. In fact, Mobvoi claims that it is of US military-grade durability and can withstand extreme temperatures, shock, dust, or water up to 5 ATM. This easily makes the S2 the toughest watch among other Chinese smartwatches.

Another great stand out feature of the Ticwatch S2 is the display; it's a 400×400 resolution OLED panel with an impressive 287ppi, making it one of the best displays on any smartwatch.

Elsewhere, the Ticwatch 2 has GPS and GLONASS support for location tracking on top of a heart-rate monitor all wrapped up in a premium aluminum case.

Overall, the S2 is an amazing value for money, considering how polished it is at only $179.99. For that price, the S2 offers a class-leading display, fantastic durability, and the reliability of Wear OS. This is a smartwatch that you simply cannot go wrong with.

Reasons to buy:
– Incredibly tough
– Fantastic high definition display
– Intuitive to use with Wear OS
– Fully featured sensors and tracking capabilities
– Extremely cheap for its features

Reasons not to buy:
– No NFC chip
– No LTE connectivity
– No water resistance
– Limited compatibility with iPhones

Verdict:
As you can see, there's nothing much we can really complain about the S2, as it truly covers all the basics people look for in a smartwatch, making it a steal at just $179.99.
---
ZeBlaze THOR 5 Flagship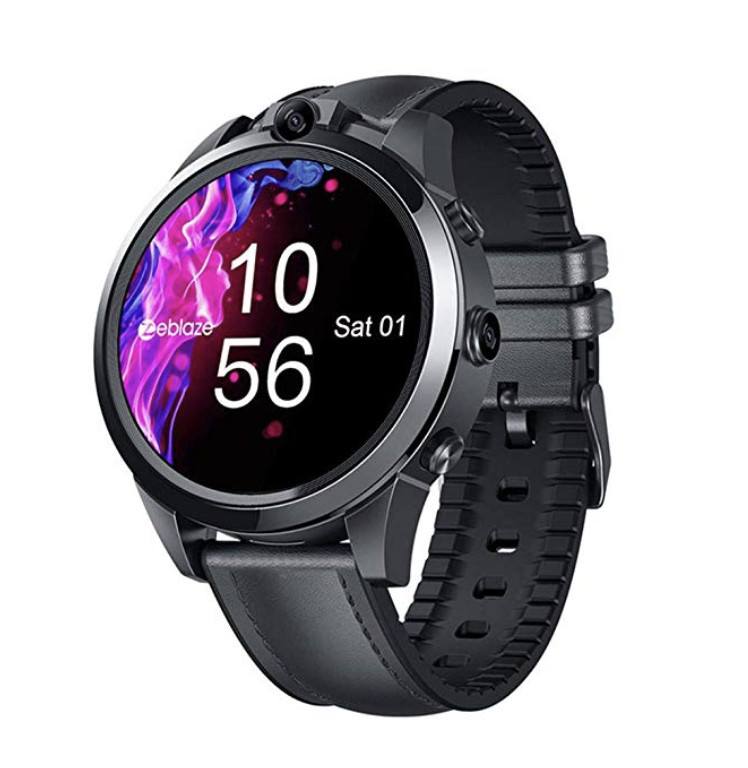 The ZeBlaze THOR 5 Flagship is a top-tier Chinese smartwatch packing unbelievable hardware for its price. It boasts a truly stunning 454×454 resolution 1.39" AMOLED display and an eye-catching 85% screen to body ratio. It runs Android 7.0, which has been highly customized to provide a seamless smartwatch experience but isn't quite as optimized as Wear OS.
Crucially, this smartwatch is very fast. It runs a MediaTek MTK6739 Quad-Core processor with 2GB RAM (most smartwatches have just 768MB of RAM), and it has 16GB of onboard storage which is four times the amount you'll find on a Samsung Gear S3. It's also got a low powered Nordic 52840 processor, which it can use to preserve battery life.

One insane feature of this Chinese smartwatch is that it has an 8MP front-facing camera, which makes video calls possible right from the watch. On top of that, you could do this only with the watch by itself, as the THOR 5 is compatible with global 4G LTE bands and WiFi.

Other than that, the THOR 5 is also equipped with GPS + GLONASS tracking, Google Maps compatibility, and a heart-rate monitor.

In a nutshell, the THOR 5 packs a truly insane feature set for its price, but despite the large battery capacity, utilizing all of its capabilities will most definitely take a huge toll on the battery life.

Reasons to buy:
– Beautiful design
– Class-leading high definition display
– Comes with 8MP front-facing camera with Face Unlock
– Has every feature you could possibly want in a smartwatch
– Runs the full Android 7.1 instead of Wear OS
– LTE connectivity
– Extremely cheap for its specs

Reasons not to buy:
– No NFC chip
– Despite large battery size, only has a subpar battery life
– Runs the full version of Android that isn't optimized for smartwatches
– No water resistance

Verdict:
While the THOR 5 certainly one-ups almost every other smartwatch when you compare them in terms of price and features, it certainly has some quirks that might turn some people off. For one, it's actually running the full version of Android instead of Wear OS. While its features are amazing, not even the huge battery could sustainably run this watch for a full day if you utilize the watch heavily.
---
Amazfit Bip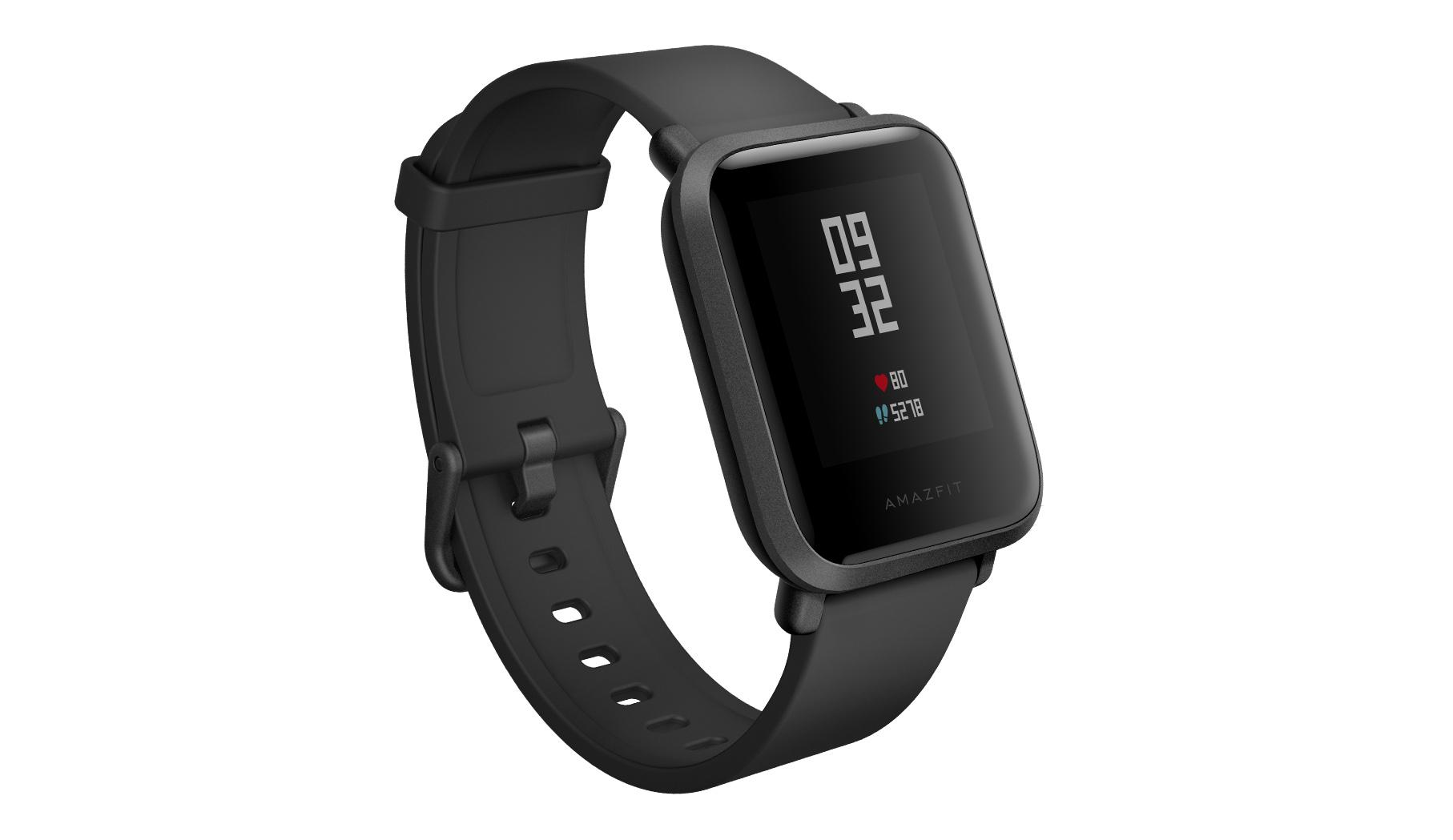 For $79.99, it doesn't get much better than the Amazfit Bip. This smartwatch has a touchscreen, GPS and a heart-rate monitor. It's also got GLONASS, IP68 water resistance, and a compass, a 3-axis accelerometer, and a barometer. It offers highly accurate fitness tracking for a great price. What more could you possibly want?
The Amazfit Bip runs its own proprietary OS and has a 176×176 resolution 1.2" display. The display is covered in Gorilla Glass 3 for durability. You can set it up to receive push notifications from your smartphone, and it's compatible with Android and iPhone devices. Do note that you can only read notifications on the Bip, but you cannot send texts or make phone calls.

Other than its incredible price, the Amazfit Bip also offers an outstanding 30-day battery life. This isn't in some low-powered mode, either. So, if you want a watch with incredible battery life, look no further than the Bip.

Thanks to its small form factor, the Bip only weighs 32g, which means you'll probably never even notice it on your wrist. It's also dust and water-resistant thanks to its IP68 rating, which is amazing given the price point.
In a nutshell, if you want a budget pick for a Chinese smartwatch, there's simply no other option that can beat the value of the Amazfit Bip for just $79.99.
Reasons to buy:
– Insane value for money: only costs $79.99
– Water-resistant
– Comes with GPS tracking
– Real 30-day battery life
– Ultra-lightweight and comfortable

Reasons not to buy:
– No NFC chip
– No LTE connection
– Not capable of sending texts or making calls
Verdict:
If you have a limited budget, the Amazfit Bip is a no brainer thanks to its rock bottom price.
---
Amazfit Pace
If you love the value proposition of the Amazfit Bip, the Pace offers more of the same in a more attractive package. It has the build quality of a top-tier smartwatch and boasts a huge feature set at a price of just $129.99. It features GPS and GLONASS connectivity, heart-rate monitoring, Bluetooth, Wi-Fi, and can be set up for push notifications.
The screen is great too. It's a 1.34" capacitive touchscreen with reflective display technology, which means it's easy to see outdoors even under sunlight. The resolution is 320 x 300 pixels, so it's sharp, a worthwhile upgrade over the Bip.

The Amazfit Pace also has an incredible 7-day battery life, which is impressive considering its bigger screen and added functionalities. Amazfit also claims the Pace can last for 35 hours with continuous usage of the GPS, so battery life won't be a concern here.
Moreover, the Pace is also IP67 water and dust resistant and is constructed from a glass fiber reinforced polycarbonate for the watch case. This means that the Pace should be able to take a beating, and we're glad that Huami didn't cut any corners in this department.

Reasons to buy:
– Great bang for the buck
– Comes with IP67 water & dust resistance
– Stylish design
– 7-day battery life
– Powerful processor despite its low price

Reasons not to buy:
– No NFC chip
– No LTE connection
– Music playback is only available offline
– Not capable of sending texts or making calls

Verdict:
Overall, the Pace is a great bargain at $129.99 if you can make do with offline music playback.
---
LEMFO LEMX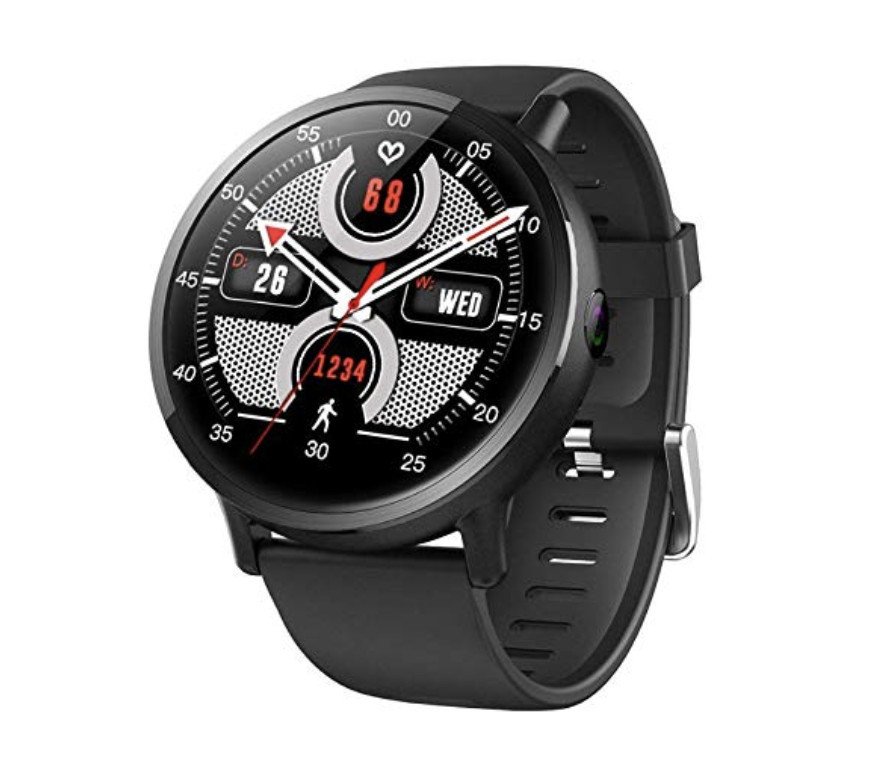 The LEMFO LEMX is another solid Chinese smartwatch, but it's more like a smartphone on your wrist than a smartwatch. It runs Android 7.1 with a highly customized interface instead of Wear OS, which isn't as intuitive to use on a small screen.

It's got a speedy Quad-Core processor, 1GB of RAM, and a huge 2.03" IPS display with a 640×590 resolution. It's also got by far the biggest battery of any smartwatch, coming at 900 mAH. It's also got an 8MP camera that is pointed to the right, which is capable of taking decent photos. Unfortunately, these specs mean that the Lemx is very heavy at 94g, and very bulky on the wrist at a 60mm size.
It looks and feels the part too with a stainless steel watch case wrapped around a minimal circular screen. However, due to its unusual resolution, the bottom of the watch has an unsightly bezel.

The Lemx also has a Nano-SIM slot with support for 4G networks to make phone calls independently. Thanks to its size, the Lemx has decent speaker and microphone quality, making it totally viable as a standalone smartwatch.
Reasons to buy:
– Decent price
– Screen has the highest resolution of any smartwatch
– Stylish design
– Huge 900 mAH battery
– Powerful processor
– LTE connectivity and capable of making calls

Reasons not to buy:
– Extremely large and heavy
– No water or dust resistance
– Music playback is only available offline
– Unsightly bezel
– Runs the full version of Android that isn't optimized for smartwatches

Verdict:
If you can deal with the large and heavy nature of the Lemx, it makes a solid choice for a standalone smartwatch at $174.
---
MorePro FITVII V12C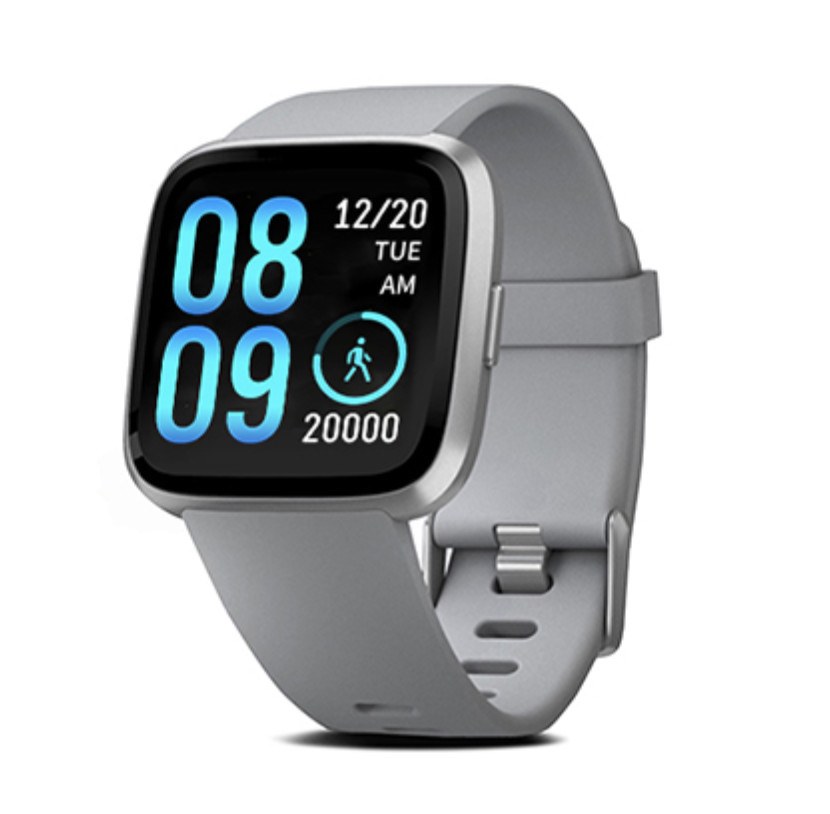 Priced at $54.97, the FITVII V12C is one of the Cheaper Chinese smartwatches on our list.

The FITVII V12C comes with built-in GPS tracking, a heart-rate monitor, a blood pressure monitor, and even a sleep tracker. It's also got an IP68 water resistance rating, which is a huge win for its price point. On top of that, the V12C features a minimal metal frame with chamfered edges, making it look and feel way more expensive than it is.

While you'll still be able to navigate through its menus and apps, the V12C leaves a lot to be desired with its performance. With that said, we can see how this tradeoff on performance actually works well for the V12C, as it has a lengthy 7-day battery life.

The V12C doesn't compromise on its screen, either, as it has a 240*240 resolution 1.3" display that is sufficiently bright for viewing outdoors. All in all, the V12C is a compelling option considering its price point.

Reasons to buy:
– Super low price
– Decent features considering the price
– Elegant design
– Fantastic battery life
– IP68 water resistance

Reasons not to buy:
– Can be tricky to set up with the app
– Syncing only works properly at a short-range
– No music playback

Verdict:
If you just want to try out an inexpensive smartwatch and don't care for any bells and whistles, the FITVII V12C is an excellent choice at just $54.
---
Ticwatch Pro 4G/LTE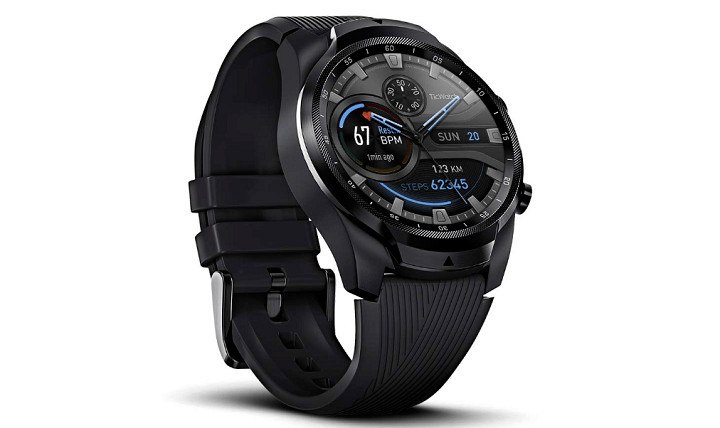 With its dual-layer screen, the Ticwatch can last up to a whopping 30 days on a charge on its low-powered screen, or 2-5 days when alternating between the low-powered and high-resolution screens.
The Ticwatch Pro now features an unmistakably premium build thanks to its stainless steel case and a top-tier strap that features a mix of silicone and leather.
The key feature of the Ticwatch Pro, the dual-layered screen, really does give you the best of both worlds. The LCD display is specifically built to only display to show basic info without consuming the power of the OLED screen underneath.
On the software side, the Ticwatch Pro runs Wear OS, Google's operating system for smartwatches. This means that the Ticwatch has native support for plenty of apps such as Whatsapp, Google Maps, and so on.
The Ticwatch is also equipped with an NFC chip, making it capable of contactless payments via Google Pay, a widely adopted payment option across the world.
Coming in at $299, the Ticwatch Pro is one of the more expensive Chinese smartwatches in this list, but actually presents a good value for money considering that it's going up against the likes of the Apple Watch and Samsung Galaxy Watch.
Reasons to buy:
– Innovative dual-layer screen
– Outstanding battery life
– Support for 3rd party apps with Wear OS
– Compatible with Google Pay with NFC chip
– Cheaper than the competition
– 4G LTE connectivity
– Premium build quality

Reasons not to buy:
– Less-than-ideal performance

Verdict:
The Ticwatch Pro sets the benchmark among other Chinese smartwatches. At $299, this watch is a great deal when you consider that it's competing with other smartwatches that are cost hundreds of dollars more.
---
Huawei Watch GT 2
Huawei has always been known for the top-tier hardware, and the Huawei Watch GT 2 is no exception. Priced at a reasonable $299, the GT2 easily has the most stylish and luxurious design for smartwatches in this price range, featuring a sleek, polished metal bezel and a strap made from genuine leather.
The GT2 is also slim at only 12mm for the watch case, making it look more like a Tag-Heuer than a smartwatch. It also helps that the wrist bands are replaceable, and there are a plethora of options to customise it exactly to your liking.
Under the hood, the Huawei Watch GT2 is powered by Huawei's Kirin A1 processor, which gives a whopping two-week battery life with active usage.

For its screen, the GT2 sports a 454*454 pixel OLED display at 1.39 inches, making watch faces and text very sharp and a pleasure to look at.
Unfortunately, the Huawei Watch GT2 is held back by its software. It runs Huawei's proprietary OS, which is fine for the most part but doesn't allow you to install any third-party apps. This means you will only be able to view your notifications from your phone but not respond to them.

The GT2 also suffers in the connectivity department, as it lacks both 4G LTE and WiFi capabilities, making it incapable of making calls or sending texts independently.

Reasons to buy:
– Exquisite design
– Incredible battery life
– Fantastic screen
– Great companion app
– Decent price
Reasons not to buy:
– Poor connectivity
– No support for 3rd party apps
Verdict:
With its drop-dead gorgeous looks, we can easily see past the Huawei Watch GT2's shortcomings, especially at its asking price of $299. Its two-week battery life also means that you can keep this beautiful watch on your wrist all the time, which you will want to do considering how good it looks.
---
Conclusion
Over the years, Chinese smartwatches are certainly making great leaps of progress to put them on par with manufacturers from across the world, and the watches in this list is a clear testament to that.
As for our recommendation, we think you'd get the best bang for your buck from the Amazfit Bip and the Amazfit Pace. Coming in at $79.99 and $129.99, respectively, both of Amazfit's offerings more than justify their price points and offers a wholesome smartwatch experience for a fraction of the price.
If you have a higher budget but still want the value proposition of a Chinese smartwatch, the Huawei Watch GT2 and the Ticwatch Pro would be solid choices, both priced at $299. When it comes to deciding between these two, go for the Ticwatch Pro if you're looking for cellular connectivity. If you can live without a cellular connection on your smartwatch, we highly recommend opting for the Huawei Watch GT2 for its incredibly slick design.