Style and practicality have always been components of Swiss design. In the world of jewelry and timepieces, Swiss creations have often acted as status symbols for the rich and fashion-conscious.
Though Swiss watches have always been regarded as a sumptuous fashion icon, many popular brands are trying their hand at the modern revolution, and getting involved with time-pieces from a more tech-heavy perspective. Since smartwatches have become more than just gadgets to many people – and indeed represent fashion statements to the masses – it only makes sense that Swiss smartwatches would be appeasing those in search of a functional, yet attractive device. If you're looking for something a little classier than your average Apple or Samsung – you've come to the right place.
Here, we're going to look at five of the biggest contenders for Swiss smartwatch fame this year.
Also read: The Best Luxury Smartwatches In The Market In 2020
Tag Heuer Modular 45
A "big-brand" name in Swiss Smartwatch design, the Tag Heuer Modular 45 is every watch lovers' dream. As the first luxury Swiss brand that went all-in on smartwatches. This watch runs on Wear OS – and boasts an enviable range of features still make it a fierce competitor in the smartwatch industry. It is powered by an Intel processor and is made out of titanium with a ceramic bezel. The screen is made out of sapphire quartz so it can really take a beating.
Designed for active (especially golfers) and fashion-friendly people, the Modular 45 features:
• GPS tracking points the hands of the watch towards the direction you need to go to.
• A year-long battery life supplemented by a built-in solar panel.
•    Golf performance tracking with the Connected app
•    Smartphone notifications and an analog replacement screen.
For those who want the convenience of a smartwatch combined with the style of Swiss design – the Tag Heuer Modular 45 is the perfect companion to spruce up your average outfit and active lifestyle.
---
Alpina Horological Smartwatch
When it comes to classy smart analog watches, the latest Alpina Swiss Horological Smartwatch takes style to the next level. Designed to offer an understated, yet luxurious look, the Alpina combines brushed stainless steel with a navy-blue dial and sumptuous leather strap.
The features of the Alpina Horological Smartwatch are similar to the previous offerings by the brand, for instance, the latest model can:
• Track calories burned.
• Keep an eye on the steps you take, and the total distance covered.
• Customize active alerts to remind you when to move.
• Track your sleeping patterns to show you how much time you spend in light and deep sleep.
• Provide up to 2 years of battery life.
The Alpina Horological watch even features a "Dynamic Coach" app which can provide suggestions and tips based on your health goals.
---
Frederique Constant Horological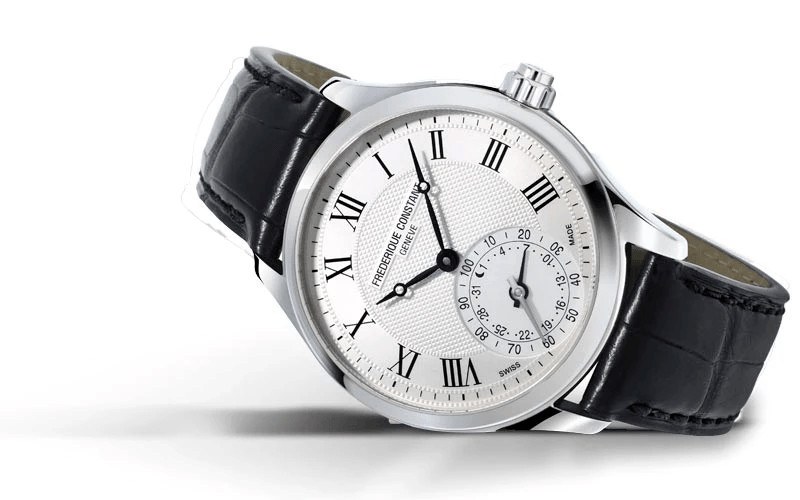 If luxury is your goal, then you'll love the Frederique Constant Horological smartwatch – designed to offer an elegant look with a waterproof design, it's practical and classy at the same time. The watch features a "second time zone" mode, alongside various other software tweaks, and you can even choose a rose gold-plated case for that extra touch of beauty.
This stylish Swiss piece offers:
• Water resistance up to 5ATM (though we recommend avoiding pools if you want to maintain the beautiful blue leather strap)
• Activity tracking features such as steps, calories, and distances
• Up to two years of battery life
Although the Frederique Constant doesn't come with GPS built-in, the sensors and accelerometer can help you track your fitness just as easily.
---
Mondaine Helvetica 1
When it comes to truly exceptional design, it's hard to overlook the beauty of Mondaine watches. The Mondaine Helvetica smartwatch has officially licensed the Helvetica font for that extra touch of luxury. At the bottom of the watch face, you'll find a secondary dial that allows you to see your fitness progress towards various goals.
With this beautiful Swiss smartwatch, you can:
• Track how much time you spend in deep and light sleep (as well as how many times you wake up during the night)
• Smart alarms to wake you up in time for work
• Activity tracking apps to help you keep track of calories, steps and distances
•    Up to two years of battery life
---
Also check out our list of the best hybrid smartwatches in the market right now.
Montblanc Summit 2
The Montblanc Summit 2 smartwatch is one of the most elegant looking one in the market right now. Even though it looks like a regular Swiss-made watch, this 42mm timepiece sets itself apart with what's under the hood. The watch face is made with a tough sapphire quartz crystal that is very scratch resistant. The case back is made with a combination of glass and fiberglass resin, and the crown is a stainless steel case. It runs on Wear OS by Google so it comes with NFC payments as well.
With this beautiful smartwatch, this is what you will be getting:
•    Heart Rate monitor and motion sensor
•    NFC contactless payments
•    GPS tracking functionality
•    Bluetooth and WiFi connectivity for your everyday notifications and music needs
If we had to nitpick, the only downside we can see is that it does not have sleep monitoring features. Otherwise, it's a beautiful watch that has a pretty decent battery life and is stylish for every occasion. Our favorite design for the Montblanc Summit 2 is definitely the Orologio variant.
---
Breitling Exospace B55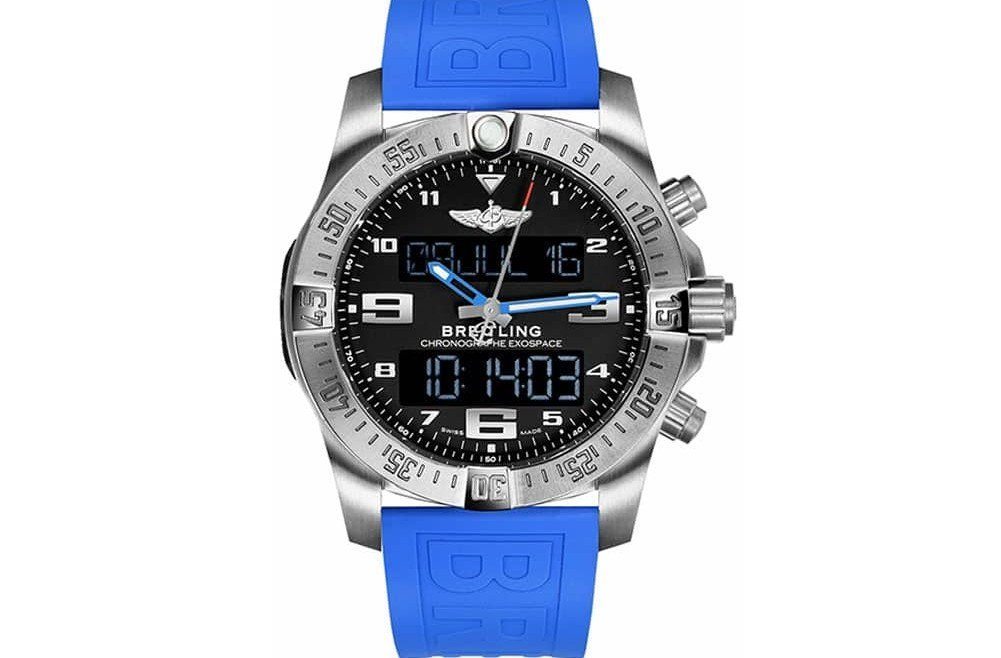 Last but not least, we have the Breitling Exospace B55 smartwatch. This luxurious smartwatch is extremely pricey but is one of our favorite Swiss-made smartwatches. Originally meant for pilots and sailors, this smartwatch by Breitling boasts a mechanical dial with two more separate digital displays that acts individually. The analog hands display the time like a normal watch, while the two LCD displays can be used for a plethora of functions like stopwatch, calendars and battery level – just to name a few.
When you get the Breitling Exospace B55, you will enjoy the following benefits:
•    A whopping 10 year battery life (which is absolutely crazy)
•   7 daily alarms for every day, perfect for frequent travelers and pilots.
•   Mission elapsed time for your James Bond activities

•  A stopwatch accurate to 1/100th of a second.
The watch face is 46mm, which is bulkier than most – makes it suitable for men. You can also connect the watch to your phone via Bluetooth to a companion smartphone app for iOS and Android". For pilots, you will have the option to load in flight departure and arrival times. For sailors, there is a feature for entering yacht regatta times. This makes it a very profession-specific smartwatch that really makes your life easier on the job.