Best Smartwatches 2020 – Ultimate List of The Best Smartwatch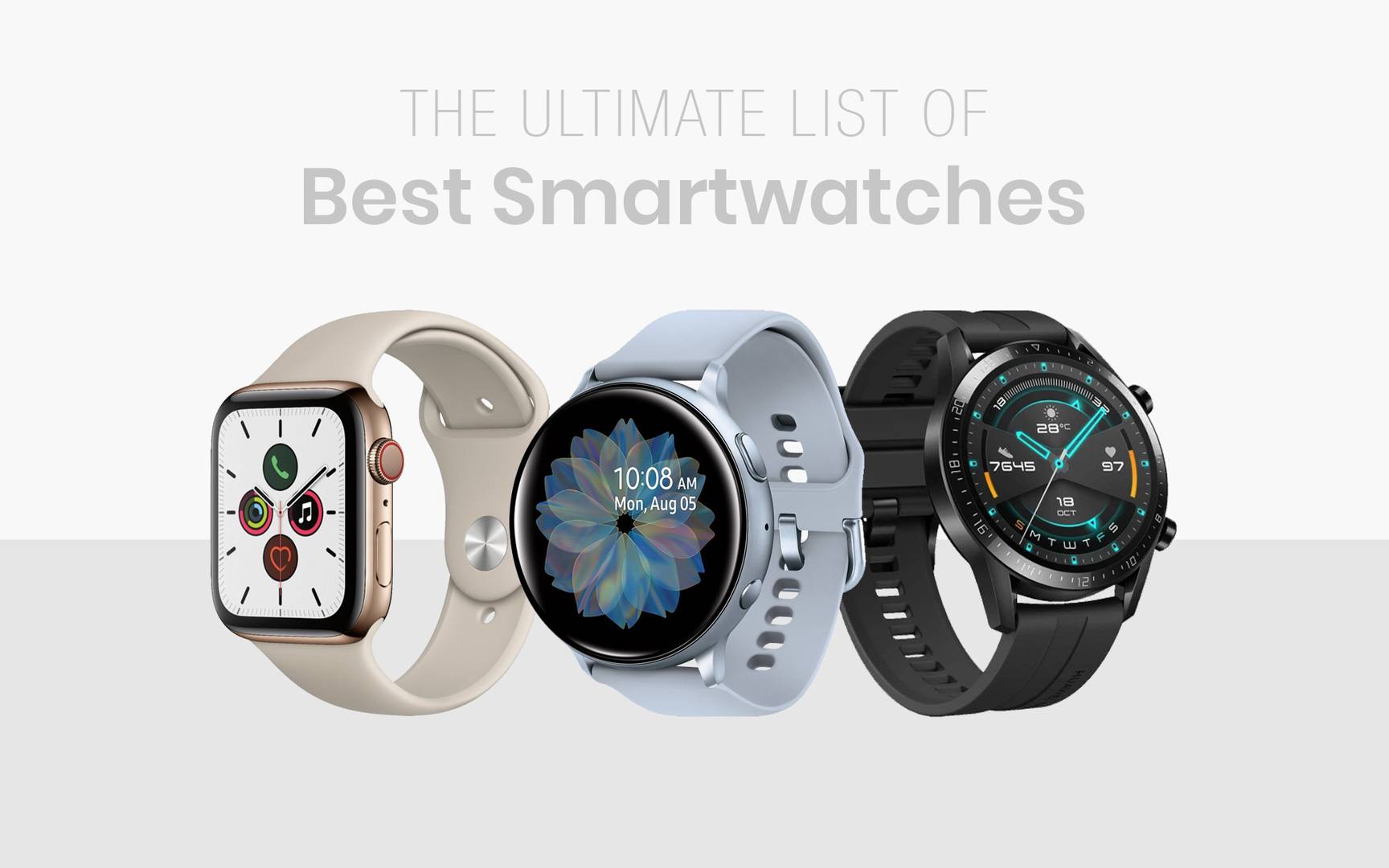 Published: | Updated:
Looking for the best smartwatches of 2020? Look no further. We've created a comprehensive list of the best smartwatches to help you in your search. This guide is a compilation of our previous round-up review articles of the best smartwatches by function, feature, and price.
The market for smartwatches has grown exponentially over the past few years. This is good news for consumers like you because you have more choices. The downside is that it can be tricky to pick a smartwatch with all the products that have flooded the market. And because smartwatches practically have the same features, it can be very hard for a neophyte buyer to pick just one.
To make things easier for you, we have sorted our list into various categories — the best smartwatches for men and women, as well as those that are powered by Google's Wear OS operating system. Even though our list includes most of the best Samsung Smartwatches, there are also some that work with another system.
Let's get started with the list.
Best Smartwatches – Top List for both: She & He
Here, at Smartwatches4u.com, we have chosen the best smartwatches for all types of people, based on what smartwatches users search the most when it comes to the best features of a smartwatch. A full and updated list that will help you to pick your next Smartwatch.
If you continue reading we also have created a list specifically for men, women, and Wear OS system. Gentlemen, you start first this time!
1. Samsung Gear S3 Frontier The Samsung Gear S3 Frontier could be the best smartwatch for men with its beautiful and durable design. It is also equipped with a heart-rate monitor, GPS, Wi-Fi, and LTE.
Pros
Beautiful design
With built-in Wi-Fi, LTE, heart-rate monitor, and GPS
With Voice command
Cons
A limited number of apps due to Tizen OS
Design, Display, and Interface
The S3 Frontier is built for men with its large face measuring about 1.8 x 1.9 inches. It should look good on men with large wrists. It weighs 2.2 ounces sans the band. In comparison, the Apple Watch Series 2 weighs just .99 ounce.
The face is protected by Gorilla Glass so this watch should be able to withstand the usual bumps and drops. You can use it in up to 5 feet of water for around 30 minutes.
The 1.3-inch AMOLED display is bright enough even during the day. It has a resolution of 360 x 360 pixels and displays vivid colors and crisp images.
This smartwatch is powered by Samsung's very own Tizen operating system. It works well with both iPhones and Android phones. You can find two buttons on the right. The upper button serves as the back button while pressing the other button returns you to the app menu.
Swiping left or right from the home screen will show you notifications, recently used apps, and weather and health stats. Pressing the bottom button on the side will have the screen switching to the app menu, with circular icons arranged around the edge of the display.
Features
The S3 Frontier is packed in features. It has sensors such as a barometer, altimeter, GPS, and heart-rate monitor. You can also use the Gear Fit app and Pear app to keep track of your activities.
Speaking of activities, the S3 is more than capable of tracking activities. Aside from running and swimming, it can track your squats, elliptical and rowing machine performances, lunges, among others.
You can also transfer music from your Samsung phone to this smartwatch with its 4GB of storage. So it is definitely a good device for all those who are looking for smartwatches to play music away. This is a nice feature because it practically eliminates the need to carry a phone during your workouts.
It also has Samsung's familiar S Voice feature with lets you give commands to the smartwatch. With the S Voice function, this smartwatch can check the weather, call someone, or send a reply to an email you've received.
With its LTE feature, the S3 Frontier is an untethered smartwatch. This means you can still make calls, read or respond to emails, and download apps even without your phone. But the catch is that the watch has no built-in apps for Facebook and Twitter, meaning you won't be able to see notifications from those two popular social media sites.
Despite that shortcoming, it is easy to understand why the Samsung S3 Frontier is widely regarded as the best smartwatch for men today.
2. Garmin Instinct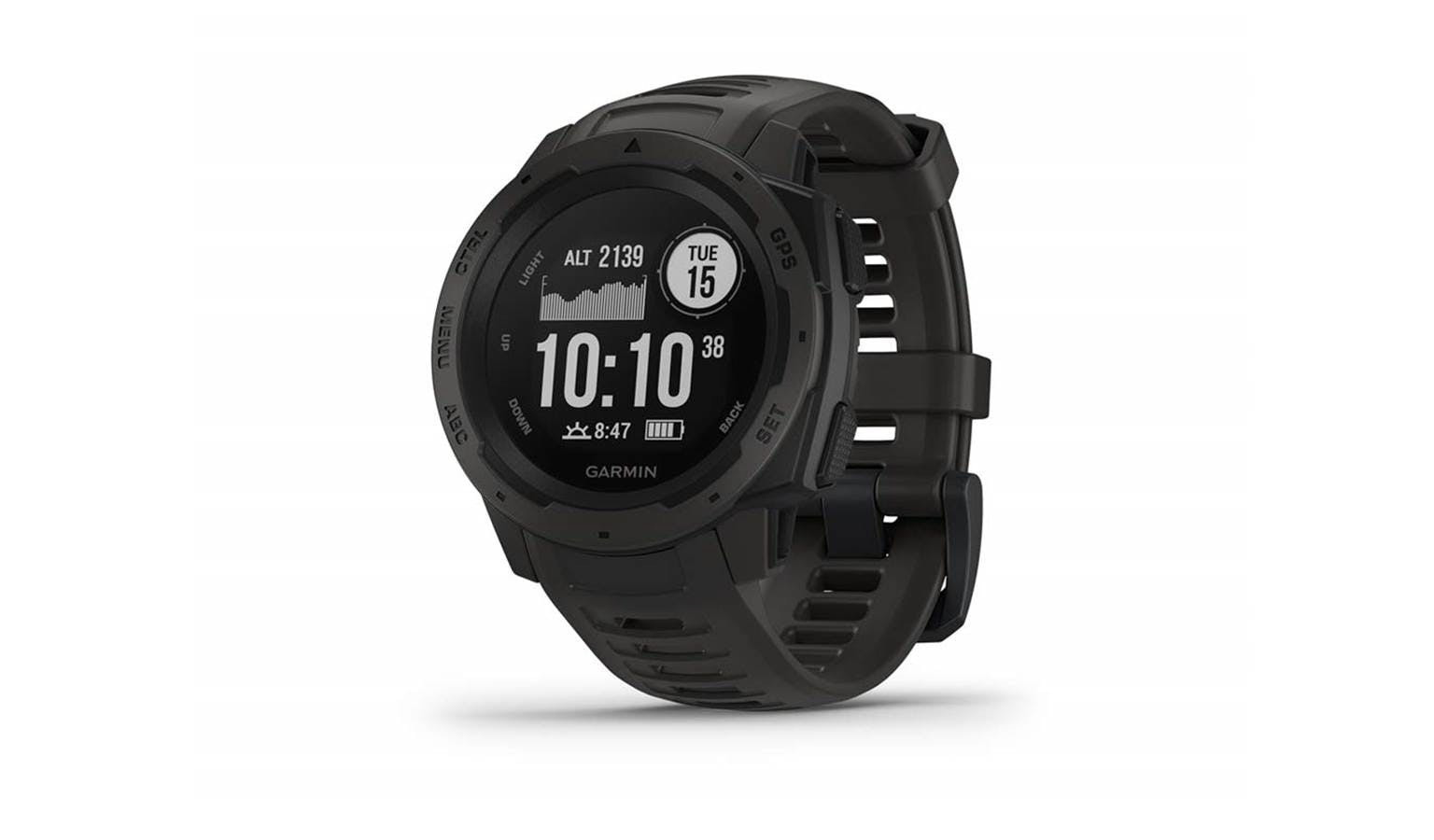 Pros
Rugged design
Affordable
Numerous fitness trackers
Cons
No touchscreen
A limited number of apps
If you're a guy looking for a good adventure smartwatch without breaking the bank, then you should consider getting the Garmin Instinct.
The Garmin Instinct can give the same performance as other high-end smartwatches but at a lesser price. This ruggedly designed smartwatch is highly recommended for active individuals.
Design, Display, and Interface
From the surface, the Garmin Instinct smartwatch looks like a Casio G-Shock watch. It has a 1.2-inch display with a resolution of 240x 240 pixels. It weighs 52 grams with a 22mm removable strap. While it is not as big as the Samsung Frontier, it is comfortable to wear all day long.
This smartwatch is also available in a wide range of colors such as flame red, graphite, lakeside blue, seafoam blue, sunburst yellow, tundra, and black.
This smartwatch has no touchscreen, though, because it is designed to be used for outdoor use. Instead of a touchscreen, Garmin uses a five-button layout. All buttons are clearly labeled and easy to press even with your gloves on.
Features
The Garmin Instinct can easily track all your activities. It can keep track of 25 various activities, from common ones like running and swimming to less common activities like stair-stepping and rowing. To log an activity, you simply have to press the top right button and choose the appropriate sport.
But make no mistake about it; the Garmin Instinct is more than a fitness tracker. It can provide you with all the health and wellness metrics, from calorie burning to step counting to sleep tracking. It can also determine if your stress levels are on the rise, and consequently, offer breathing techniques.
Moreover, this smartwatch will tell you to get up and walk around when it detects that you have been sitting too long.
In terms of battery life, the Garmin Instinct can match up with any smartwatch. Under regular use, its battery can last for 14 days. When the GPS mode is on, the battery life can last up to 16 hours.
The Garmin Instinct can also receive incoming notifications and control music on your phone. However, you cannot add music files to it or install Spotify.
3. Fossil Gen 5
Pros
Numerous designs available
With built-in GPS and a heart-rate monitor
Supports tethered iPhone calls
Cons
Poor battery life
Quite pricey
Fossil is one of the more renowned makers of watches, and it has successfully launched its range of smartwatches, too. The latest Fossil Gen 5 series (particularly Fossil Gen 5 Carlyle and Fossil Gen 5 Julianna) is arguably the best smartwatches from the American brand. They also come in a huge range, too.
Design, Display, and Interface
Fossil Gen 5 is powered by Google's Wear OS platform. It has a memory of 1GB. It comes in a 44mm case size, making it ideal for guys with large wrists.
It has a 1.3-inch AMOLED display and a Qualcomm Snapdragon 3100 processor. The round screen has a resolution of 416×416 pixels.
The colors on the screen are vibrant and vivid. It shows the time in default mode while in ambient mode, the watch shows the time update with low brightness and no animations. This is to ensure that the battery will last long.
Slim and lightweight, the Fossil Gen 5 feels comfortable on the wrist even if you have been wearing it all day long. You can change the straps with any of Fossil's offerings. This makes the Gen 5 easy to customize.
The smartwatch features three buttons on its side and a large middle button for scrolling through the apps menu. On its back is an optical heart rate monitor.
Features
Unlike the early versions of Fossil smartwatches, the Gen 5 can track your activities. It has built-in heart rate and GPS sensors, so you can install apps like Google Fit, Fit Workout, and Strave to get all the health-related information you want to record your activities and track your progress.
With a built-in GPS, you can use any of the abovementioned apps without connecting the Gen 5 to your smartphone. In short, you can work out without having to bring your smartphone.
You can also wear this smartwatch while swimming because it is water-resistant. It can work up to a depth of 30 meters or about 100 feet.
The Fossil Gen 5 also has a Cardiogram app to give you insights on heart rate increase throughout your day. It can also help you in identifying signs of diabetes, sleep apnea, and more.
It is equipped with Google Assistant, which means you can get help in the form of language translation and reminders. You can also ask questions and hear responses through the Gen 5 speaker.
Finally, Gen 5 is the first Wear OS device that can support tethered iPhone calls. In short, you can hear and answer calls using the Fossil Gen 5—no need to pull out your iPhone.
If there's something we wish Fossil had done better, it would be to improve the battery life of the Gen 5. On a typical day, expect the Fossil Gen 5 battery to last for 6-8 hours.
4. Garmin Vivoactive 3
If you are looking for a fitness-focused smartwatch that has a stylish design, then the Vivoactive 3 from Garmin could be the right one for you.
The Garmin Vivoactive 3 could be the best smartwatch in terms of tracking activities. But unlike its cousin, the Garmin Instinct, it has a more stylish design that can rival other fancied models like the Apple Watch.
Design, Display, and Interface
The Vivoactive 3 is highly recommended to guys with large wrists with its case size of 43mm. From afar, the round screen makes it look like an oversized analog watch than a fitness tracker.
The 1.2-inch LCD screen has a resolution of 240×240 pixels. It is not the best in this list but making use of LCD technology, it is power-efficient which translates to longer battery life.
Moreover, it can sufficiently show information even under the bright sunlight.
It weighs around 43 grams which makes it comfortable to wear all day long. But it may also feel a bit flimsy no thanks to its plasticky construction.
When you press on the watch face, the menu display will be shown. It is from here where you can make adjustments like changing the watch settings, setting the alarm, or changing the watch face. You would also appreciate that the Vivoactive 3 shows the entire text message or an alert.
The heart rate monitor is placed at the back of the unit, along with a connection for attaching the Vivoactive 3 charger. This smartwatch is also water-resistant up to a depth of 50 meters. You can swim even with it wrapped around your wrist.
Features
The Vivoactive 3 can track up to 15 activities ranging from common ones like running and swimming to equipment-based activities like rowing machine and stair climber. With its built-in GPS, the Vivoactive 3 can also track outdoor activities with relative ease and accuracy.
This smartwatch also shows your stress score, average resting heart rate, and VO2 max or cardiovascular fitness level. The latter is something you won't get from other smartwatches. It should help you better understand your fitness levels. Moreover, the Vivoactive 3 will show how you stack up with the fittest individuals in your age range.
The Vivoactive 3 also gets rave reviews for its amazing battery life. It can last up to six days without charging when the GPS is not in use. Using the GPS would cut down the battery life to 3-4 days, which is still impressive, to say the least.
5. Garmin Vivoactive 4
This is the latest version of the Garmin Vivoactive series. As the name implies, the Garmin Vivoactive series has always been targeted at the active bunch. At the time of writing this list, the Vivoactive 4 is one of the best-featured fitness smartwatches out there, and to top it all off, boasts a fantastic battery life.
Design, Display, and Interface
The Garmin Vivoactive 4 keeps the clean and sleek interface from its predecessor, the design is also very similar to the Vivoactive 3. However, the display has been significantly improved as this smartwatch features a 1.3 inch (33 mm) 260 x 260 pixels resolution transflective touch-sensitive color screen – which is a huge jump from the Vivoactive 3.
Features
The Vivoactive 4 watch comes with health-oriented tracking features like VO2MAX, hydration tracking, stress level tracking, menstrual cycle tracking, breathing pattern tracking, heart monitoring and sleep monitoring. Other than that, it also comes with music storage, GPS tracking, a built-in fitness coach app, and smartphone notifications.
The Garmin Vivoactive 4 sounds like the complete package, no surprise there because it has all the features that a smartwatch user needs and the touchscreen and build looks absolutely beautiful. However, it is also one of the more expensive smartwatches in the market.
If you're a fitness junkie, want a smartwatch that looks good, comes with great battery life and doesn't mind spending some extra cash, the features the Vivoactive 4 comes with makes it a no brainer. If fitness tracking features are not a top priority, look further down the list!
6. Amazfit Bip
Not everyone is willing to spend a handsome amount on a smartwatch. If you're one of them, consider this affordable smartwatch. The Amazfit Bip is a low-cost smartwatch that you won't regret getting.
Design, Display, and Interface
The Bip is available in four colors— orange, gray, green, and black. It only weighs 1.1 ounces and its square display surrounded by black bezel makes it look like a toy. While it won't likely win any awards for its design, the smartwatch is lightweight and thus comfortable to wear.
The 1.28-inch screen has a 176×176 pixel resolution. The screen is always on while its crown leaves a tactile sound and feel.
Despite not being the most stylish smartwatch, the Bip is tough and durable. It is made of polycarbonate and matte-plastic. The touchscreen display is protected by Corning Gorilla Glass.
It is also capable of being submerged up to 5 feet of water for 30 minutes.
The smartwatch is powered by a proprietary operating system. However, it has no app store. There is also a limited number of third-party apps that are compatible with it.
Features
The Amazfit Bip works like any other smartwatch. You can access your calls, text messages, and email messages by swiping up on the main ace. You can read those messages but unfortunately, you can't respond to them. You can also dispose of messages and disable notifications.
It can provide information such as heart rate, steps taken, distance traveled, and calories burned. It will also notify you when it detects that you have been sitting around for too long.
It has a Weather pane, too, which gives you information on the weather. Swipe it up and you'll see a five-day forecast.
It features the MiFit app which measures all your activities, from walking and running to equipment-based workouts like a treadmill. It also syncs and stores other information that the watch gathers like distance, location, and steps taken.
This app also lets the Bip receive alerts from other apps like Instagram, Facebook Messenger, WhatsApp, and YouTube, among others. However, as stated earlier, you cannot respond to those alerts. You'll have to get your phone if you want to respond to your messages.
The Bip has its own GPS which is quite impressive given its price. Paired with the Mi Fit app, you can use the watch to track your activities and set goals.
This smartwatch can also track your sleep. It can tell you how many hours of deep and light sleep you had.
Finally, Amazfit Bip is one of the best in terms of battery life. It can last up to 45 days of regular use, meaning that includes sleep and activity monitoring. Using the GPS can diminish its battery life to two weeks, which is still a feat in itself.
7. Huawei Watch GT 2
Huawei, the telecommunications giant in China has outdone itself yet again. Known for producing top of the line hardware at entry-level prices, the Huawei GT 2 is an upgraded version of the previous GT model. The Huawei Watch GT 2 comes in 3 different designs: Classic, Sport, Elegant. Those designs each come in 44mm and 46mm sizes, and just like the Samsung Galaxy Watch – we highly recommend the 46mm format. For just a little bit extra, you get double the battery life and Bluetooth calling features. The Huawei Watch GT 2 now features an always-on display and all the features of the older model.
Features
It definitely does not offer as many features as the other smartwatches on the market considering that they are using a proprietary OS, but you get superb battery life in return. That being said, you still get a whole lot of features you'd expect from a smartwatch, music capabilities, a proprietary sleep tracking technology called TruSleep that was certified by Harvard Medical School, 24-hour heart rate monitoring, GPS support, and notification support. It also works perfectly well with iOS and Android devices. It is also very well built.
Like all other Huawei products, the Watch GT 2 is very reasonably priced for what it brings to the table. The only downsides we can think of is the lack of 3rd party apps support and the need for a proprietary charger. If you're looking for an everyday smartwatch that is a reliable, feature-rich, and great value – look no further, the Huawei Watch GT 2 is the one you're after.
If you're looking for more smartwatch ideas for yourself, make sure you check out our men's guide to the best smartwatches.
8. Kate Spade New York Women's Scallop Smartwatch 2
This smartwatch is a major upgrade from its predecessor, offering features that were not found in the first offering such as built-in GPS and heart rate monitoring.
Design, Display, and Interface
This smartwatch has a 42mm stainless steel case which may be quite big for ladies with smaller wrists. With a bezel around its screen, the smartwatch has that petal effect that gives it a distinctive look.
The case is also scallop-patterned while the pusher has that familiar spade detailing. These details give the Kate Spade Scallop Brand Smartwatch 2 a very feminine look.
You can choose from seven color options including black, pink, rose gold, and white. There are also band style options to choose from such as leather, silicone, and classic stainless steel.
Similar to its cousin, the Fossil Gen 5, this smartwatch is powered by Wear OS. You can personalize it in different ways. For example, you can use your Facebook profile picture or an Instagram photo as the background image on the dial.
Although this smartwatch is powered by an old Snapdragon 2100 processor, its interface remains snappy and smooth. You won't likely have any problems with its performance.
Features
The Scallop 2 has more features than its predecessor and thus can be considered an upgrade. It has a built-in heart rate monitor and GPS, thus tracking activities should not be a problem at all. This smartwatch should be able to keep track of the number of steps you have taken, your route, and the estimated number of calories you have burned.
With its Google Assistant, you can control your music settings, see notifications, and customize the look of your watch. You can also respond to email and text messages using Google Assistant, as well as place calls or ask for directions.
As for the battery life, you can expect the Scallop 2 to last for about a day.
9. Michael Kors Access Runway
The Michael Kors Access Runway is the follow-up to the brand's Access Sofie. It is a more minimalistic smartwatch that still looks beautiful on any woman's wrist. Perhaps more important, it has the features that can make it a great gift to health-conscious women.
Design, Display, and Interface
The Access Runway has a beautiful design, to say the least. It has a 41mm stainless steel case which makes it just the right size for women, especially those with small wrists.
The smartwatch has a 1.19-inch AMOLED display. It displays images vividly. Some people think it's a bit small but we feel it is of the right size for women who normally look for the best small smartwatches that fit in their wrist.
The band of the smartwatch is interchangeable. This lets you customize its look by using other 18mm straps for the Access Runway. The smartwatch also does not appear clunky.
Unlike the Access Sofie, the Runway has three buttons on the side. Apart from the rotating crown which is for scrolling through the notifications and menu, the two other buttons are for accessing specific apps.
For example, you simply press one button to activate Google Pay. The other can also be customized to open Google Fit.
This smartwatch is powered by Google's Wear OS operating system. With simple swipes of the unit, you can easily access the various functionalities offered by the Runway.
Features
As mentioned earlier, the Access Runway is an upgrade over its predecessor. It has tons of features that justify its rather expensive price.
It features a redesigned Google Fit which can track and record all your activities. Swipe the screen to the left will show your daily metrics. When you tap on the display, the Google Fit app will open and give you more detailed figures.
With the Runway, you can see more in-depth information such as calories burned, distance traveled, and steps taken. You can also track heart-rate and log the results through Google Fit.
You will also have the Google Assistant ready to help you with this smartwatch. This function can be accessed by swiping to the right. You will see an overview of your day, from calendar appointments to travel information.
You can also store up to 4GB worth of music on this smartwatch. This means you don't have to bring your smartphone with you when working out.
The Michael Kors Access Runway is powered by a Snapdragon 2100 processor which is not exactly new. However, it remains reliable, especially in loading apps.
Unfortunately, the Runway does not have the best battery life. It still makes use of the same battery that powered the Access Sofie. You can expect this smartwatch to last over 12 hours or even fewer, especially when you use the built-in GPS most of the time.
10. Apple Watch Series 5
The Apple Watch Series 5 is every runner's dream. It boasts built-in GPS and has careful Nike+ Run Club integration as a standalone apple app.
Nike+ Run Club gives you a clear view of all your activity data, including detailed maps showing your runs. In addition to this app, the Apple Watch Series 5 is Apple's top of the line wearable product, which has taken the market by storm.
Design, Display and Interface
Like all Apple products, Apple watches interface and product design are wonderfully done. The always-on display is also extremely beautiful and is hard to take your eyes off of. All in all, it goes without saying that the Apple Watch 5 is one of the best smartwatches in the market right now.
Features
If you are an iPhone user, you'll probably find the functionality of the Apple Watch Series 5 way better than an Android Wear smartwatch. It offers seamless compatibility, with notifications app data sent straight from your iPhone to the watch if you would like them. Overall, the Apple Watch is a solid smartwatch best-suited to iPhone users.
Apple's proprietary WatchOS packs a powerful punch when it comes to functionality. With the biggest App Store on the planet, you get to access many different 3rd party apps that can further enhance your experience with this piece of wearable. It does what every other smartwatch does and more, but the only thing the Apple Watch 5 lacks is inbuilt sleep tracking functionality, but you can always download an app for that.
11. Fitbit Versa 2
Pros
Great value
User-friendly and sturdy design
Fashionable
Fitbit pay
One of the best for sleep tracking
Cons
No built-in GPS tracker
Alexa responds in text formats only
The screen is not very bright under the sun
Fitbit Versa 2 has one of the best battery lives in the smartwatch space. Running on Fitbit's proprietary OS, it's compatible with iPhone and Android users. users reported that it can last for almost a week without turning off the battery draining heart rate monitor feature. If you only use heart rate monitor sparingly, you can easily stretch the battery to well over 8 days, which is impressive! How Fitbit does this in the Versa 2 is by not having a built-in GPS tracker, which is the feature that drains an immense amount of battery. Don't despair because if you like the Fitbit Versa 2, don't let that stop you!
You could find interesting: List of The Best Fitbit for Kids
Design, Display and Interface
The AMOLED display can be quite dim under the sun, but other than that it has been really vibrant in our experience. The product's design is also very modern, stylish and minimalist so it will fit with any outfit you have in mind – just make sure you get the right color! As for the interface, the Fitbit Versa 2 comes with their proprietary Fitbit OS, which is very well thought out and extremely easy to use.
Features
Coming from Fitbit, the Fitbit Versa 2 is a very fitness-oriented smartwatch. Made for runners and gym rats alike, the fitness tracking features are top-notch. The Versa 2 also boasts a very accurate sleep tracking feature, compared to what's available in the industry. You have the option to connect the Versa 2 to your smartphone and leverage on your phone's GPS feature instead. It's also one of the best waterproof smartwatches so it works well if you like swimming or going to the gym.
However, if you're into running and dislike bringing your phone around when you run, the Fitbit Versa 2 is not a great option because of the lack of standalone GPS tracking.
You could find interesting: Guide of The Best Fitbit for Kids
12. Samsung Galaxy Watch
Design, Display and Interface
Now that we have all the technicalities out of the way, let's talk about design. The rotating bezel on the Galaxy Watch remains a highlight of navigating around the OS on the watch, and the user interface is one of the friendliest that we've seen on a smartwatch.
Features
However, it's important to note that the Galaxy Watch runs on Tizen OS, which works seamlessly with Samsung phones, but is severely lacking in terms of compatibility with iOS. The reason behind Galaxy Watch's fantastic battery life is also the default heart rate setting, which only samples the wearer's heart rate throughout the day rather than monitoring 24/7 – but there's an option to turn it on. Another downside we've noticed is the lack of 3rd party apps on the app store because Samsung decided to stick with Tizen OS instead of giving in to Wear OS.
If you're an Android or Samsung user looking for great battery life, the Samsung Galaxy Watch has to be one of the top smartwatches available on the market. However, if you're an iPhone user, do yourself a favor and stay away from Tizen OS watches for now. If you're a big user of voice assistants, you should consider other watches because Bixby is terrible.
If you're looking for more information, make sure you check out our buying guide for the best women's smartwatches.
Best Smartwatches for Everybody – Those Powered by Wear OS
Indeed there is a good number of systems for smartwatches but the debate has been -at least for a while -which is the best? In our article Wear OS vs Tizen, we made a comparison of both wearable systems, but here we are going to talk about the best smartwatches from Google's factory system.
1. Fossil Sport
If you are looking for the best smartwatch powered by Google's Wear OS, in our opinion, you should get the Fossil Sport.
It is an excellent combination of features and value in a stylish body. Moreover, the battery is pretty decent.
Design, Display, and Interface
The Fossil Sport has a 1.19-inch OLED display with a resolution of 390 x 390 pixels. You can choose from 41 or 43mm case, which makes the Sport suited for both men and women. We find the display of the Fossil Sport colorful and bright enough, even under the sun.
You will love the swappable wristband of the Fossil Sport because it can let you customize the look of your smartwatch. You can choose from any 22mm or 18mm wristband to go along with it.
This smartwatch is powered by the latest Snapdragon Wear 3100 processor. Apps load quickly and feel responsive.
Features
You will get your money's worth with the Fossil Sport because it is teeming with features. This smartwatch is a good choice for fitness-conscious individuals.
It has a built-in heart rate monitor that does a great job of helping fine-tune your activities. The built-in GPS and accelerometer, on the other hand, will give you accurate results in tracking your distance.
There are some instances, though, that the Fossil Sport takes a while to pick up your signal.
You can also swim wearing this smartwatch. Its water resistance is rated for up to 50 meters of depth.
With the Google Fit app, you can get recommendations to achieve your activity goals. The app practically works like a health coach, taking inputs from the World Health Organization and the American Heart Association.
As for battery life, Fossil Sport is advertised to run up to two days without recharging. We found that claim to be true. It can also switch to low power mode which allows it to stretch its battery life.
We also found the recharging of Fossil Sport to be very quick. You can recharge it in around 30 minutes.
2. TicWatch E2
Pros
Large, vivid screen display
Numerous fitness features
Looks can be customized
Cons
Design is a bit bland
Short battery life
This is one of the more affordable smartwatches that you can get today. Not only is it powered by the Wear OS, but it also has some nifty features that belie its low price. It even has decent battery life.
Design, Display, and Interface
The design of the TicWatch E2 is functional. It's not the most fashionable smartwatch in the market but it is designed to be easy to use.
Similar to its predecessor, the TicWatch E2 has a 1.4-inch AMOLED display. The resolution is 400 x 400 pixels. The smartwatch is lightweight and comfortable to use all day long.
On the right side of the watch face is the crown button for accessing the notifications and apps. You will have to use your fingers in scrolling through the menus.
Customization is one of the strongest suits of the TicWatch E2. You can change the watch faces by choosing on Google Play Store. You can also change its straps.
This smartwatch is powered by a Qualcomm Snapdragon 2100 processor, making it more robust than its predecessor.
Features
With a water resistance rating of 5ATM, this smartwatch can be worn during your swimming sessions.
You can also store more apps, songs, and other files on this smartwatch as it is equipped with 4GB of memory.
The TicWatch E2 has an integrated GPS that would let you monitor all your outdoor activities, from running, walking, cycling, and swimming.
There is also a Mobvoi app installed on the smartwatch which gives you more information on your workouts such as calories burned and steps taken.
And with its Google Assistant, you can bark commands at the TicWatch E2. However, you have to be connected to a Wi-Fi network or within range of your smartphone to be able to do so.
TicWatch says the battery life of the E2 is a lot better than the previous model. Expect this smartwatch to last 2-3 days if you don't use the GPS at all. When you activate GPS, the battery life can last for about a day.
Recharging the smartwatch is also quick as you can do it in less than an hour.
3. TicWatch Pro
The TicWatch Pro by Mobvoi is a great all-rounder when it comes to style, functionality, and reliability.
Overall Experience with TicWatch Pro
What's unique about this watch is that it comes with two separate screens, one LCD and one AMOLED for battery saving purposes. The reason why the battery life ranges from 2 to 30 days is that this watch has two modes: Smart and Essential. It comes with a typical Wear OS interface so it's great if you have prior experience with smartwatches on Wear OS.
Having Smart mode on would yield you a battery life of 2-5 days depending on usage. This is considering having the 400×400 high-resolution AMOLED multitouch touchscreen and Google's Wear OS turned on at all times.
The Essential mode is self-explanatory and can last for 30 days – which is one of the most extended battery in a smartwatch. During Essential mode, Wear OS and the AMOLED touchscreen are turned off and you're left with the bare basics of a smartwatch. The LCD screen reminds me of the Casio G-Shock series, high sunlight visibility, and minimalistic. The best part about the Essential mode? You still get steps tracking and heart rate monitor. How they still have these battery-sapping features on and even get a 30-day battery life beats me.
We are big fans of the TicWatch brand and Mobvoi, their smartwatches are usually unique in their own right, great for general use, and an excellent choice for Android users. However, the TicWatch Pro is quite expensive and may not be the best choice for very active people who expects to use Smart mode all the time. A Fitbit Versa 2 or Garmin Vivoactive 4 would be more suitable for you if that sounds like you.
4. Huawei Watch 2
The Huawei Watch 2 is not exclusively for women; it's versatile enough to be worn by men. But we think that the relatively small display size of this watch (1.2 inches) makes it ideal for ladies and their smaller wrists.
Moreover, it is packed with fitness features that should make it appealing to women who want to keep themselves active and fit.
Design, Display, and Interface
Despite having a small screen, this smartwatch from Huawei can show vivid and true-to-life images thanks to its 390 x 390 pixels resolution. It is visible even under direct sunlight.
From afar, the Huawei Watch 2 looks sporty. It is lightweight and comfortable to wear as it only weighs around 2 ounces.
Powered by Android Wear 2.0 operating system, this smartwatch is compatible with both Android and Apple devices. It comes in three color variations—black, brown, and grey.
Its 20mm band is made of a rubbery material that is comfortable on the wrist. It is easy to remove and can be swapped for other bands, depending on your mood.
Features
The Huawei Watch 2 can match up with other smartwatches when it comes to functionalities. It has an integrated GPS for accurate tracking of your runs as well as for outdoor navigation.
You can view notifications and even better, respond to them through the Smart Reply tool. This function can formulate short and contextual responses to your text and email messages.
You can also customize the look of the watch with just a simple swipe. With Watch Faces, you can easily switch from a minimalistic face in time for a fancy dinner date or for a more detailed face when you go out for a run.
And this smartwatch is built and designed for fitness enthusiasts. You can get real-time coaching which guides you during workouts. It keeps track of your performance and gives you suggestions on how to achieve your fitness goals.
You would also love the integrated heart rate monitor of this smartwatch. With 5HR ranges, it can accurately measure the intensity of your workouts.
Meanwhile, the Huawei TruSleep function can keep track of your sleep stages and help you achieve sound and restful sleep.
This is an IP68-rated watch meaning you can wear it underwater at depths of 1.5 meters for about half an hour. However, it cannot track laps in the pool hence it is not ideal for swimming. It does have other sensors like compass, accelerometer, and barometer.
Finally, this smartwatch can last for up to 25 days without recharging. This makes it one of the best in terms of battery life.
Want more? Make sure you read this detailed guide for Android smartwatches.
Wrapping It Up!
Phew! Was that a list. I hope that this list helped you make your purchase decision and get the smartwatch that you really deserve. My favorite right now is the Huawei Watch GT 2, great value with amazing features. One more thing before you leave, my team and I will be updating this list from time to time so make sure you check back soon if you still haven't decided!