Apple Watch Series 5 Review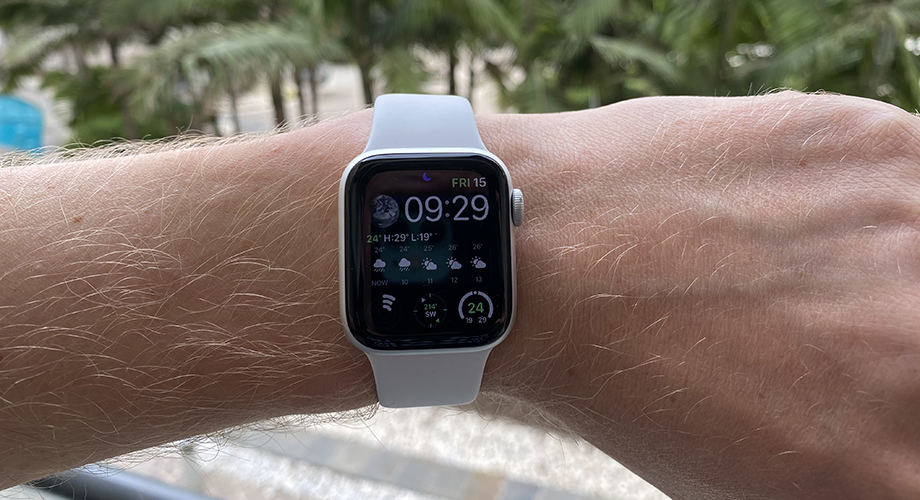 Published: | Updated:
Apple Watch series 5 is available in two sizes, with 40mm and 44mm case. For our apple watch series 5 review, we tested the 40mm model. The price difference between the two sizes isn't significant and there aren't really any differences between the specs of the two models either. Choosing one or the other mainly depends on your wrist's size and personal preference.
What's new on Apple Watch Series 5?
The biggest difference in the Apple watch series 5 compared to the previous Apple Watch model is the always-on screen. Or the possibility of having the screen always one. While it is a nice feature it compromises battery life. Keeping the screen always on reduces battery life drastically and after a few days of usage, I had to turn off the feature as the watch could not even survive one day with a single load.
Apple Watch Series 5 Price
Apple Watch comes with a hefty price tag compared to other smartwatches that pack more or less the same features. In the USA the Apple Watch Series 5 retails $399 (40mmm) and $429 (44mm). Outside the USA (the UK and Europe) you can expect to pay about 15% more. I paid €459 for my 40mm white Apple Watch Series 5.
Apple Watch Series 5 Design
Nothing has really changed in the design. The Apple Watch Series 5 looks and feels more or less the same as it's predecessor series 4. Compared to traditional watches smartwatches, in general, are secondary in my opinion, but there are lot's watch faces and bands available for the Apple watches that allow you to make it more appealing to the eye.
Apple Watch Series 5 Battery life
Apple promises 18 hours of battery life but in real-life use, this wasn't the case for me if the screen was always on. Without using the always-on screen feature the battery lasted over a day with ease. And since I really have not noticed a difference in usage whether the screen is always on or not, I have not turned on the always-on screen again. I value the greater battery life more and the screen activates when it needs to so I'm fine by not having the screen always on.
Apple Watch Series 5 Features
There isn't that much new stuff going on with the features. I still use mainly the same features I did with my first smartwatch.
Music
Music is really convenient to control on the watch and you can easily browse the Spotify playlists you have. Especially during a workout, it is nice to able to control music without the smartphone. Of course, some headphones allow some sort of control over the music but the watch does it better.
Camera
The camera app comes pre-installed on Apple Watch Series 5. It is really nice to be able to control your camera from your wrist. Only panoramas you cannot do from the watch but pretty much all other features are available on your wrist. You can zoom in and out, choose what to focus, and so on.
Exercise
The Apple Watch spots when you are on the go and automatically starts recording an exercise. It works well on walks, runs, and other types of steady cardio. Which unfortunately I'm not a big fan. Most of my exercise is training at the gym or doing own bodyweight exercises. I like to walk a lot of thought but don't really enjoy going for runs or swimming distances.
Sleep tracking
Sleep tracking is something I got really into when it was introduced in the first smartwatches that came out. Proper rest is important and it is nice to know how well you succeeded in getting one. So yes, I was quite bummed when I noticed there was no native app to tracking sleep.
I did some research and ended up downloading an app called auto-sleep as it was highly recommended. While it does its job decently I was disappointed to see that it did not include any alarm. This was a companion app called AutoWake that you had to download and purchase separately. And boy did it not work. I have used it now for two weeks and I have managed to turn on the alarm once. So one could say that it really does not work that well.
Getting started with Apple Watch Series 5
Getting started with the Apple Watch is easy and everything ran really smoothly. I have my Apple watch series 5 paired with iPhone 11. Just turn on the watch near your iPhone and the watch app should pop open on your phone. If not, you can always manually open the watch app and select to pair a new watch.
Watchfaces Once you have successfully paired your apple watch with your iPhone you want to start looking what watch face to use. While you can browse different watch faces from your phone is much easier to do from your iPhone using the watch app. For the new Apple Watch Series 5 there are plenty of new cool watch faces to choose from.
Is the Apple Watch Series 5 worth it?
As mentioned already, the apple watch series 5 comes with quite a hefty price tag, and to be honest, the price tag isn't really justified. If you want to get a better bang for your buck there are better options available. Like Fitbit Versa 2 for example, that costs half what apple watch costs and has a native sleeping app that the apple watch series 5 lacks. However, other watches than apple lack other features when paired with an iPhone. For example, Siri isn't working with Fitbit Versa 2, but you will have Amazon Alexa. If you aren't fine with this, it's better to look at the previous Apple Watch models.
You could find interesting: Best Fitbit for Kids
Compared to previous Apple watch models it doesn't really have much new either. So I don't see the point of updating from a previous model if you already have the series 3 or 4 on your wrist. Both are still generally good options to buy if you have the iPhone and are considering buying a new smartwatch. The only feature that the older Apple watches lack is really the always-on display.
However, if price isn't an issue and the smartphone that you are using is an iPhone it is definitely one of the best if the best smartwatch to buy for your device.