Casio Launches Their G-Shock Inspired Android Wear Smartwatch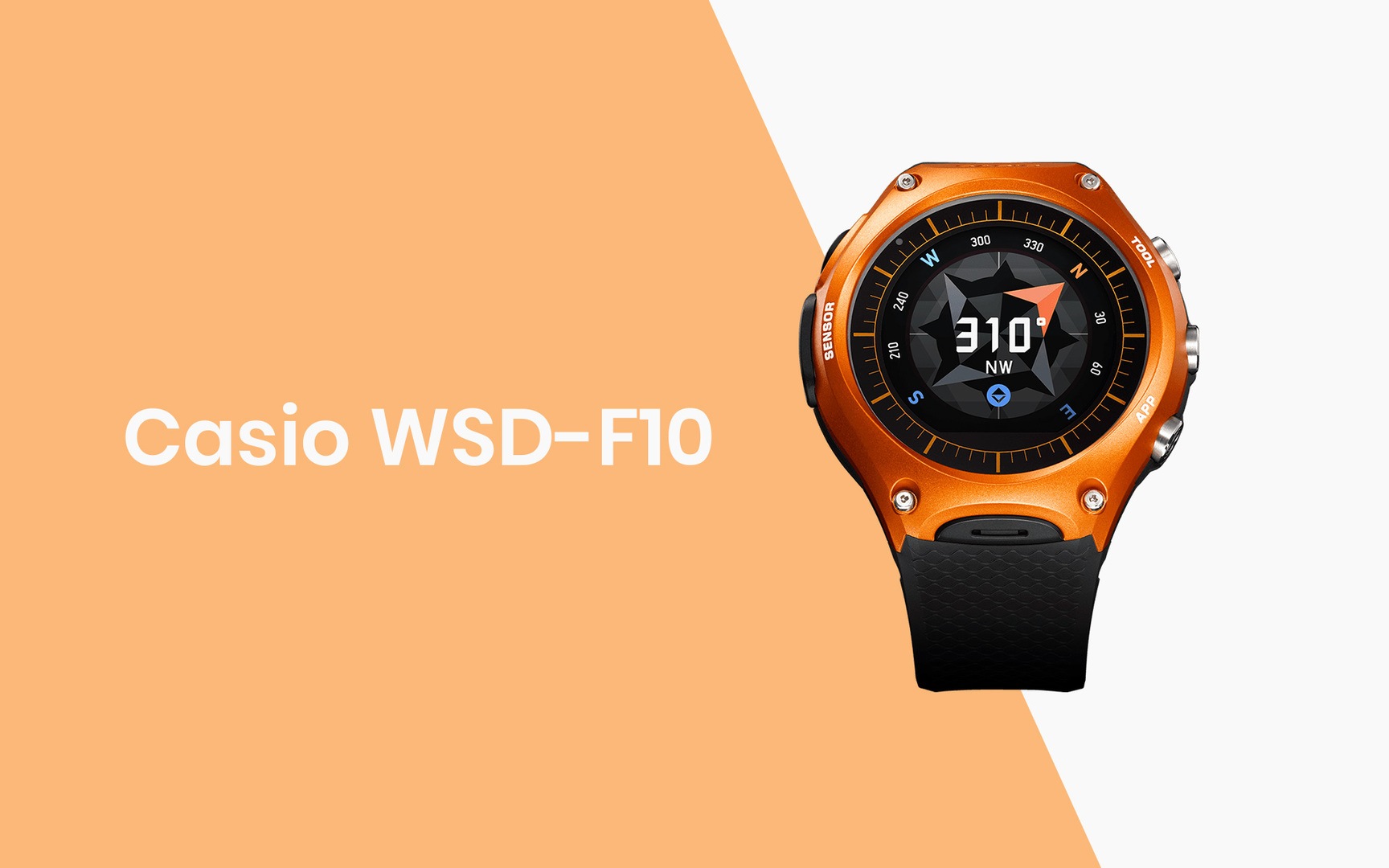 Published: | Updated:
Casio joined the world of Android Wear this week with the launch of a rugged smartwatch called the Casio WSD-F10.
Casio 'Smartwatch' Quartz Resin Sport Watch, Color:Black (Model: WSD-F10RG)
55mm Case Diameter
Compatible with smartphones running Android versions 4.3 and later and iPhones 5 and beyond running iOS 8.2 or above (limited functionality with iPhone)
Built-in quad sensors provide real time notification of activity tracking, altimeter, barometer, and compass readings without the need for a phone
limited app functionality with iPhones
Unveiled at CES, the WSD-F10 has water resistance to 50-meters (50ATM) and it has been built to military-grade specifications. It has big chunky buttons for use with gloves and it has clearly been designed with the G-Shock faithful in mind.
As a result, WSD-F10 is one of the toughest smartwatches on the market. The likes of the Apple Watch and standard Moto 360 don't come close. In fact, the only smartwatches that come close to the ruggedness of the WSD-F10 are the Moto 360 Sport and Fitbit Blaze, but even these fitness inspired devices look no match for Casio's latest.
Casio WSD-F10 technology
Casio's smartwatch features a round 1.32-inch TFT LCD display with a resolution of 320 x 300 pixels. The display is bright and vibrant and stands up well against the competition, although the watch is on the large side compared to other smartwatches. The official measurements are 56.4mm (width), 15.7mm (height), and 15.7mm (thickness). Technology is certainly taken care of though: it packs an atmosphere pressure sensor, accelerometer, and gyrometer and magnetic sensor into its 15.77m thick case. The WSD-F10 runs Android Wear and it is compatible with Android devices running 4.3 or later and iOS devices running version 8.2 or later. It connects to your smartphone to provide active notifications through either Bluetooth 4.1 LE (Low Energy) or Wi-Fi.
Unlike many smartwatches, the WSD-F10 has physical buttons on the side. These include a dedicated button for bringing up your current direction and sunrise and sunset times, as well as a button for setting your alarm and accessing lap timer functions. Uniquely, the watch has a few different modes to conserve battery life. The most power-efficient of those is Timepiece Mode, which has a battery life of more than one month, but in Smart mode, the watch will only last a day or two according to Casio. The watch also comes pre-installed with a number of Casio apps for outdoor activities including cycling, fishing, and trekking, and Casio has created a number of watch faces, including one with a camouflage background, to give users more personalization options.
Casio WSD-F10 durability and ruggedness
As discussed, the WSD-F10 has been designed with ruggedness in mind. It boasts U.S. military certification MIL-STD-810 and this means it can withstand harsh environments as well as extreme humidity, shock, vibration, and temperature ranges.
The watch looks like it could survive a trip to Mount Everest and if you are a fan of chunky and outdoorsy watches, the WSD-F10 will definitely appeal to you. The display is surrounded by a large and hardy aluminum bezel. This bezel is available in a variety of colors, including Green, Orange, Black, and Red.
All versions come with a chunky rubber strap. Pricing is yet to be revealed but we'll update this article as and when that becomes available. In the meantime to find out more about the Casio WSD-F10, visit the Casio website.