Strapping one of the latest pieces of technology to your child's wrist makes more sense than you might think these days. In an age brimming with potential threats and reasons to worry about your youngsters, getting the right GPS tracking watch for your kids can allow you to monitor their location in real-time, and even let them call for help in an emergency.
The idea isn't for you to stalk your child – but to ensure that they're equipped with a tool for absolute safety at all times.
Getting a GPS tracking watch for your kid goes a long way to ensuring their safety. With a smartwatch on your child, you'll have peace of mind knowing their exact location thanks to GPS tracking, so you'll be able to keep tabs on their whereabouts at all times.

With that said, there are plenty of smartwatches for kids to choose from, so before we dive into our top picks for smartwatches for your child, let's first cover some things you need to know before considering one.
Buying A Kids GPS Tracker Watch: What you need to know
Even though this guide covers mostly smartwatches and kids gps trackers, you should know that you don't necessarily need a smartwatch for your child to have GPS tracking capabilities. If you are not comfortable giving your child a smartwatch, we'll have some options in this guide for GPS tracking devices that don't have a screen so that you don't have to worry about it being a distraction in school.
With that said, smartwatches allow for SOS Alerts and Two-way calling. This is paramount should your child find themselves in a dangerous situation. Smartwatches with these features will allow your child to quickly and easily send out an emergency signal to you or other family members.

With a smartwatch, your child can also give you a call with Two-way calling, with some even being capable of video calls. You also don't have to worry about your child getting calls from strangers, and these calls are only meant for a few select contacts, such as family members.

Now that we have that out of the way, We've shortlisted the best GPS trackers in the market specifically for kids. Let's get started, shall we?
Best GPS Tracker Watches For Kids
iGPS Wizard GPS Tracker Watch – Best GPS tracking features
The Wizard GPS Tracking Watch Phone from iGPS features live GPS tracking, cellular voice communication, a one-touch SOS button, and safe and danger zone functionality. This covers all the basics in terms of communication with your child, and for that reason, we think this is the best option for a smartwatch for kids.
There's no doubt that the Wizard is incredibly equipped with location-tracking capabilities: it comes with built-in Wifi, GPS Tracking, and Cellular Triangulation for the most up to date accurate location data outdoors and indoors.

Other noteworthy features of the Wizard is voice and text messaging, which can come in handy even for little things like letting your child know that dinner is ready. The voice calling feature is also helpful if your child needs to call you for whatever reason.

It's also water-resistant, which means it'll likely hold up well over time against water splashes or rain.

Reasons to buy:
– Reasonable price for its features
– Minimal core features equal fewer distractions for your child
– Intuitive to use
– Comes with texting and voice calling capabilities
– Great customer service support over the phone

Reasons not to buy:
– Lack of personalization options
– Ring Characters are pricey and hard to configure
– Lack of camera or other nifty features

Verdict:
The iGPS Kids Smartwatch is a great buy if you want a smartwatch with robust location tracking and voice call/texting capabilities. The focus on core functionality is also reflected in its price, as it comes in well below smartwatches equipped with a front-facing camera.
---
TickTalk 3 GPS Tracker Watch – Best For Active Kids & Video Calls
With GPS, 4G/LTE, Wi-Fi and Bluetooth, the TickTalk 3 ticks every connectivity box. It also comes with a fantastic screen, coming in at a resolution of 800×480.

Thanks to its 4G connectivity, this smartwatch features one of the most accurate and fast location tracking amongst other smartwatches for kids. The TickTalk can track location with 3 different modes, each with varying ranges.

Thanks to its Wi-Fi connectivity and its 2MP front-facing camera, the TickTalk 3 is also able to reliably do not only video calls, as it won't consume any of your data caps while doing so. It's only one of the few smartwatches that can pull of video-calling right.

If your child doesn't have access to WiFi at school or elsewhere, the TickTalk also comes with a free Red Pocket Sim kit, which comes in a pay-as-you-go plan. The monthly plan is only $10 which includes 500 minutes, 500 SMS and 500MB of data.
There's also an IP67 water resistance rating, which gives extra protection against water splashes, rain, or being dropped in water.
The price of the TickTalk 3 is steep at $189.99, but features such as 2 way calling, the ability to dial any number, personalization options, and it's additional features more than makes up for its hefty price tag.
Reasons to buy:
-Comes with every feature you could possibly need in a smartwatch
-Great additional features such as Stopwatch, Reminders, Dialing Pad and Do Not Disturb
-Comes with custom watch faces
-Watchbands are some of the best in quality and variety
-Great customer service support

Reasons not to buy:
– Pricey
– Video calls might affect battery life
– Rich features could be a distraction for your child

Verdict:
The TickTalk 3 is the closest you can get to a full-featured smartphone in our list, and is also one of the most customizable in terms of design. If you think your child could use the extra features and video calling capabilities, the TickTalk is a no brainer despite its above-average price tag.
---
YENISEY Kids GPS Tracking Watch – Best GPS Tracking Watch For The Money
While YENISEY is not a well-known brand, it offers unbeatable value for its features. Coming in at under $50, this may be a great option if you're on the fence about investing in a smartwatch for your kids and just want to try things out.

The YENISEY Kids Smart Watch actually comes with two-way voice calling despite its rock bottom price. It comes with a front camera which is absolutely mind-boggling if you take the price into account, but it is used only for taking pictures instead of video calls.

As for design, the YENISEY Kids Smart Watch has 6 colorways to choose from, but none of them look particularly trendy. While some of the colorways are slightly odd, the ones with the black strap look decent and aren't any worse than our other options.

One notable omission from this smartwatch would be a water resistance rating. This is one of the corners that have been cut to reach this low price point, and one we think is a big downgrade.
Nonetheless, we think the shortcomings of this smartwatch aren't deal-breakers, and if you're comfortable with them, this is by far the best value for your money among all options in this list. At under $50, you really can't go wrong with the YENISEY smartwatch.
Reasons to buy:
-Comes with full-fledged features despite a low price
-Incredible value for money
-Comes with free SD Card

Reasons not to buy:
– No water resistance rating
– Lack of proper customer support channel
– Questionable design

Verdict:
If you want a smartwatch that 'just works', or if you just want an inexpensive starter smartwatch to test the waters, you can't go wrong with the YENISEY Kids Smart Watch.
---
Honorable Mentions – Kids GPS Trackers That Are Not Watches
Relay GPS Tracker For Kids
Strictly speaking, Relay is not a smartwatch but if you don't fancy the idea of giving your child a smartwatch or smartphone but still want the peace of mind that comes with it, the Relay might be the right option for you. The Relay is a small device the size of a post-it note that has 2-way voice calling capabilities like a walkie-talkie. It's also equipped with nationwide GPS tracking and geofencing features where you will get a notification every time your child enters or leaves designated safe zones.
The Relay also comes with a polished app where you can playback previous messages and even has a group chat option, where your child can send a message to multiple contacts at a time.
We found the Relay to be a great option for a screenless GPS tracker for kids. The absence of a screen makes this option less of a distraction and a purpose-built tool for essential communication needs only, which might be great if your child is easily distracted.
Reasons to buy:
-Distraction-free
-Cheap
-Reputable customer service support
-Comes with an intuitive app that has group chat features

Reasons not to buy:
– No water resistance rating
– Lack of additional features
– Not wearable, accessories are costly

Verdict:
If you want the peace of mind of knowing exactly where your child is without the distraction and price tag that comes with a smartwatch, the Relay is a fantastic option. With that said, Relay doesn't claim that it is waterproof, so your child will need to keep this device out of splashes. Since it's not meant to be worn, we don't think this is an issue.
---
AngelSense Kids GPS Tracker
Coming in at an eye-watering $499, the AngelSense might seem like an overpriced option, but it's one of the most feature-rich GPS trackers you can buy right now. The price also comes with a 1-year subscription, which you would normally need to pay for any way at $119.99 per year.
Like the Relay, the Angelsense is a GPS tracker and voice calling device without a screen. However, the AngelSense packs a ton more features, especially for location tracking. The AngelSense was initially developed specifically for kids with special needs, which means it has a huge focus around its location tracking features.
The AngelSense not only has GPS tracking, but also a Live Tracking monitor in the app that gives up-to-date location updates every 10 seconds. You can also receive immediate alerts regarding your child's location in text messages, which automatically sends you a text whenever your child is on the move.
Reasons to buy:
-Distraction-free since the device has no screen
-Incredible location tracking features
-Reputable customer service support
-Outstanding transit tracking functionality
-Options for accessories to attach the device

Reasons not to buy:
– Extremely expensive
– Lack of water resistance
– Locked in a 1-year subscription
Verdict:
The AngelSense the robust GPS tracking device on our list, but comes in a hefty price tag. With that said, this is by far the best device we've come across for location, and if you have the budget for it, the AngelSense is most definitely a worthy purchase.
---
Jiobit Kids GPS Tracker
Another great pick for a screenless kids GPS tracking device is the Jiobit, which is actually as small as an Oreo cookie! Despite its small size, the Jiobit is very capable of precise location tracking and has an outstanding battery life of up to 1 week.
Since the Jiobit has WiFi and Bluetooth baked into the device, the Jiobit can use WiFi to track location when your child is in range of WiFi, or Bluetooth when the child is near your phone whenever you're out and about.

On top of that, you can also set up geofencing options with the Jiobit, and this helps the Jiobit save on battery since the GPS will only be activated when your child enters or leaves the safe zones instead of running the GPS tracking all the time.

All in all, the Jiobit is a compelling option for a kids GPS tracking device for just $129. While it's not the cheapest option in this list, we found its features to be well worth the price and can wholeheartedly recommend it if you want a screenless option to track your child's location.

Reasons to buy:
-Very small in size (smaller than an Oreo cookie)
-Robust and secure location tracking features
-Long battery life
-Fantastic app
-Comes bundled accessories to attach the device and a charging dock
– Durable and water resistant
Reasons not to buy:
– No 2-way calling feature
– Slightly pricier than the other options
Verdict:
The Jiobit is a fantastic option for tracking your child's location, and its long battery life and bundled accessories make it an excellent value for money even at $129.
---
Samsung SmartThings Tracker
The SmartThings Tracker by Samsung yet another option for a screenless kids GPS tracker, and it comes in at a relatively affordable price point at just $86. On top of that, Samsung bundles AT&T's LTE network service for free for the first year, and only charges $5 per month or $50 per year after that for the cellular service. This is a great deal since you'll be saving money in the long run on your cellular bill.

As for the device itself, it's very small in size and can easily be attached to your child's backpack, keys, or wallet and comes with built in support for a strap on the corner of the device. It's also got IP68 water resistance, so there's no need to worry about splashes, water submersion, or bad weather.

The SmartThings Tracker also has an SOS button that your child can use if they're in trouble, which will immediately alert family members via the Smart Things App that is compatible with both Android and iOS. With the app, you can also set up geofencing alerts, which gives you a notification whenever your child enters or leaves a designated area.
Reasons to buy:
-Easy to carry around and attach
-LTE tracking
-Decent battery life
-Bundled with a year's worth of cellular connection
-Durable and water resistant
-Comes with app for real-time alerts

Reasons not to buy:
– No 2-way calling feature
– Slightly pricier than the other options

Verdict:
If you're looking for a simple GPS tracking device without any fancy features, you can't go wrong with the SmartThings Tracker by Samsung.
---
Spytec GL300MA GPS Tracker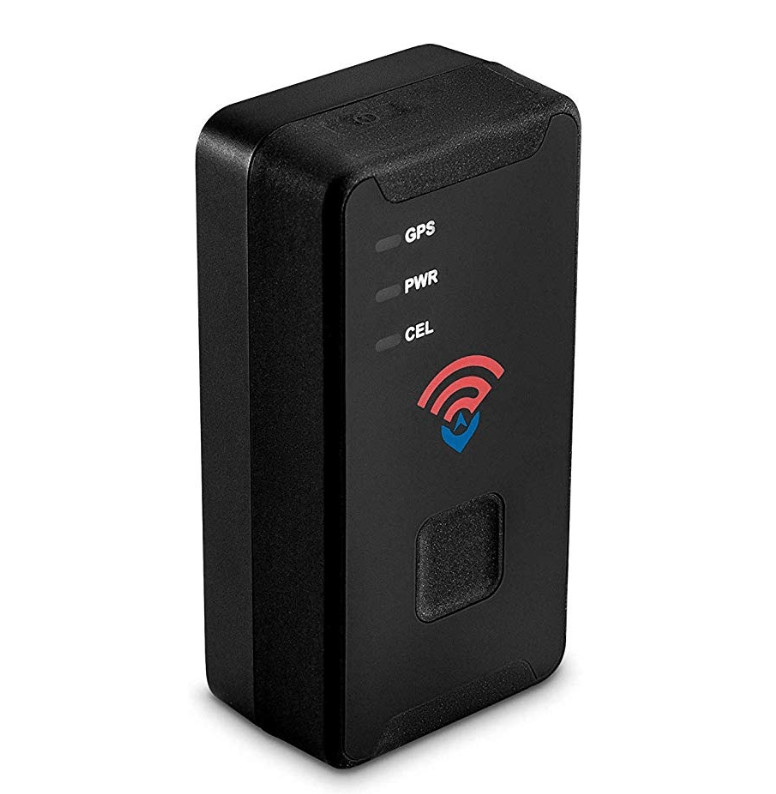 While not originally designed for kids, the Spytec GPS tracker is a tiny device that boasts a 2.5 week battery life with GPS tracking turned on, all for just $50. The Spytec GPS tracker does not come with any options to attach the device, but it's definitely small enough to fit in any backpack or pocket.
Spytec uses its own app for location tracking via the SpyTec GPS app, which provides alerts via text or emails based on the tracker's movement or speed. The location is updated every 5 seconds, and can be displayed on a computer or on the app.
So far, everything about the SpyTec GPS sounds like a great deal, but there's a huge catch with this device. Its monthly subscription costs are extremely expensive at $25 per month.
For this reason, we can't really recommend the SpyTec GPS tracker for long term use as you'd rack up a whopping $300 bill for the cellular connection alone for a year's worth of cellular data.
Reasons to buy:
-Affordable price for the device
-LTE tracking
-Fantastic battery life
-Comes with app for real-time alerts

Reasons not to buy:
– Extremely expensive data plan
– No water resistance
Verdict:
Unless you're specifically looking for a tiny device for GPS tracking with long battery life to use temporarily, we can't recommend the Spytec GPS tracker due to its prohibitively expensive monthly cellular pricing.
---
Tracki Kids GPS Tracker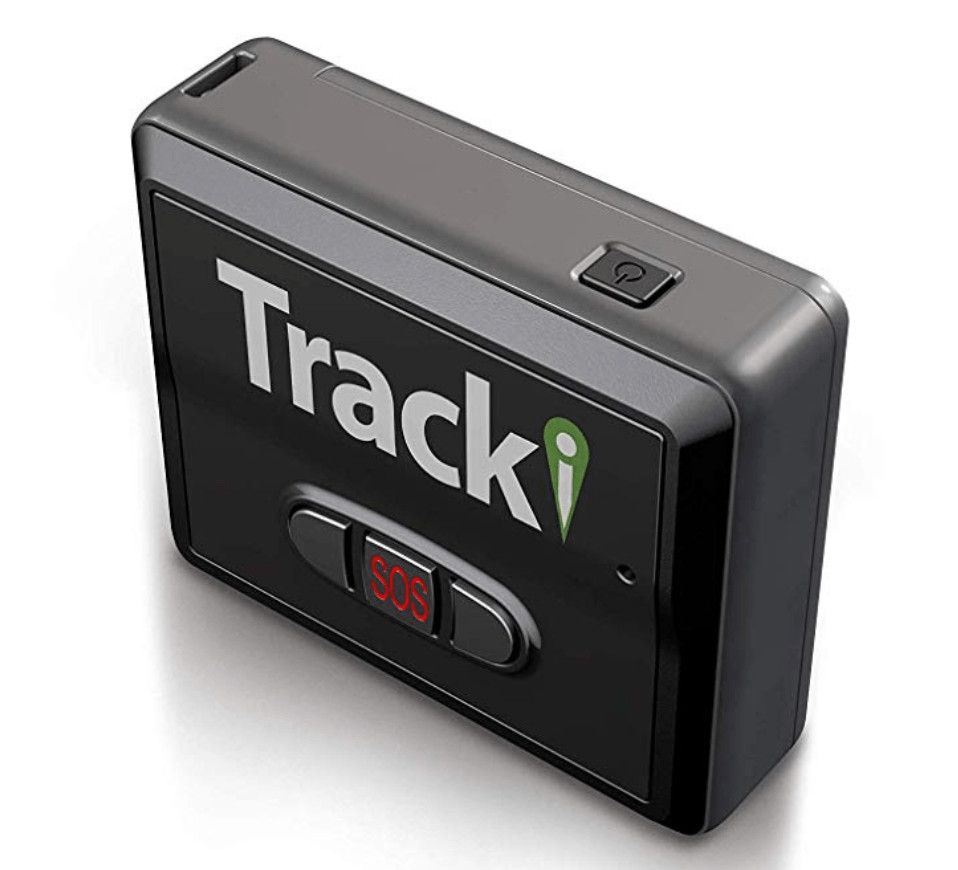 The Tracki GPS tracker is priced at $28.88, and just like the Spytec GPS tracker, part of the cost of the device is subsidized by the higher-than-average cellular data plan. Do keep in mind that prices vary from $9.95 to $19.95, depending on the plan you choose.

One unique feature of the Tracki is that it works internationally all around the world, with no roaming fees required on top of the cellular bill. So far, the Tracki is the only device that is supported internationally, which would be perfect if you travel overseas frequently and still want to use the tracker for your child.
The Tracki is a very small device that is ultra-portable. Despite its small size, the Tracki does have an SOS button that your child can use to transmit their location to you in real time, and there are geofencing options as well to get notified when your child goes outside designated areas.
Unfortunately, Tracki had to cut some corners to hit the price point of under $30, the main one being battery life. While Tracki boasts up to 1 month of battery life in power savings mode, users have reported the battery to last only 1 or 2 days in actual use.
Reasons to buy:
-Very cheap device cost
-Works internationally
-Decent app
-Lifetime warranty

Reasons not to buy:
– Somewhat expensive data plan
– No water resistance
– Poor battery life
– Slow location tracking frequency
Verdict:
Even with the very cheap price point, the Tracki doesn't really present a good value for money considering its lackluster battery life and poor frequency for location tracking. However, it is the only device that has worldwide coverage, and if that's a feature you need, then the Tracki is your only option.
---
YEPZON Freedom 3G GPS Tracker
The Yepzon Freedom GPS Tracker is the smallest device in this list; it's sized like a car key fob and comes with a built-in keychain hook. Despite its tiny footprint, the Yepzon Freedom GPS Tracker still packs GPS, 3G and WiFi connectivity, and is very reasonably priced at $49.
To conserve battery, the Yepzon GPS tracker only has tracking intervals of 1 minute by default, though you can use the SOS function in the app to manually force a real-time location update.
Unlike other cheap GPS trackers that we've just covered, Yepzon doesn't charge an arm and a leg for their monthly cellular subscription. In fact, their yearly plan has some of the best rates we've seen; $29.99 for unlimited data per year. That's an astounding price for data connectivity that we don't see often.

Reasons to buy:
-Very cheap device cost
-Affordable monthly cellular plans
-Very small size

Reasons not to buy:
– No water resistance
– Poor battery life
– Slow location tracking frequency
Verdict:
We think you can't go wrong with the Yepzon if you set your expectations right. You'll need to charge it daily and use the SOS feature sparingly whenever you want an up-to-date location update of your child. Otherwise, the Yepzon is a great option since it's such a small device with one of the cheapest cellular subscription plans out there.
---
Wrapping Up The GPS Tracker List
We hope this list was helpful in making your decision. The products on this list are all amazing for their value and features – there are a ton of other sub-par products and we've shortlisted the best of the best. If you're still unsure, think about what you need in a GPS tracker.
If you want a general use smartwatch with safety features, the iGPS Smartwatch and TikTalk 3 are both really good options. If you are on a budget and want to save some money, you can give the YENISEY smartwatch a try – but it isn't as sturdy as the other two. Lastly, if for any reason at all, you don't want the distractions that come with a smartwatch or a smartphone for your kid, opt for the Relay, Jiobit or AngelSense and you'll be in good hands.
What do you think about this list? Let me know in the comment section down below!
Looking for a more generic smartwatch for your kid? Check out our guide on the best smartwatches for kids & tweens in 2020.